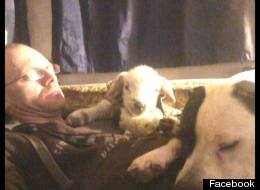 They arrested him for burglary, but then things got wild.
Back in April, British police picked upGraham Redfearn, 41, on suspicion of burglary. When officers searched his home, they found pórnographic videos of the 41-year-old having séx with a mare, and other footage of him having séx with two dogs.
Redfearn told officers that he was "experimenting" and that he'd "just lay on the bed [and] the dog did the rest," according to the Metro.
According to the Shropshire Star, police believe that Redfearn intended to share his videos with others. He "admitted to two charges of séxual activity with a horse and dogs and two charges of possessing extreme pórnographic images," the newspaper reported.
In court Sept. 12, Redfearn was banned from owning animals and was "given a 10-year s*xual offences prevention order."
Redfearn had also posted Facebook statuses that said he was looking to work with horses and had experience with "stud work."
According to the Mirror, in Shrewsbury crown court, Redfearn said he had beenabused and defiled by a German Shepherd when he was 12 years old.
Although the video showed him having s*x with the horse, Redfearn avoided jail time because no evidence could be found that the animal was distressed.
This isn't the first British bestiality case to be heard this year. In August, a Wiltshire man was banned from all farms in the United Kingdom after he admitted to having séx with a goat. Earlier this week, he was sentenced to six weeks in jail.