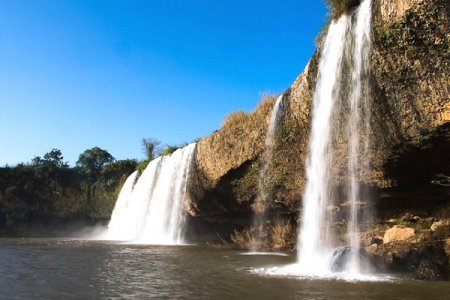 The Matsiriga Waterfall, which is about two kilometres off Kafanchan, is one of Kaduna state's untapped resources. A few kilometres from the old railway town of Kafanchan, Jema'a local government of Kaduna State, lies a natural beauty that is left looking shabby and unkempt, and unable to attract visitors. Though it is just a few metres away from the Kafanchan-Madakiya-Zonkwa-Kaduna highway and very conspicuous, it has no finesse and no one dares take a look at it. Here are 4 interesting facts about it.
1.As you approach it, one perceives loud sound from the fall. Also sparkling bubbles of water flowing from atop hard rock and hitting hard at its base to form a pool that flows down the slope is perceived.
2.It is an area of outstanding natural beauty, which is both tranquil and breathtakingly beautiful. A natural rock shelter at the river bank forms a cover and resting place for picnicking. Like a half umbrella, it provides shade for tourists amidst the wondrous continuous waterfall.
3.The water of this magnificent fall have their source from springs on the Kagoro hills cascading from four different natural funnels off the sheer rock cliff from about 25 metres to form a large pool at the bottom.
4.The waterfall which is reputed for producing create a rainbow-like mist which appears and disappears mysteriously on some Sundays and from its pool straddles between Aduan 5, a suburb of Kafanchan, on the southern bank and Matsirga, a village that now lies in ruins following the 2011 post election violence,  on the northern bank, which is actually in Zangon Katap local government.
5.The Matsiriga Waterfall according to residents is central to the economic and social development of the state, if the government recognises its tourism and revenue earning potential. Interestingly, the waterfall is not known to many of the residents, even though the village close to it is called Matsiriga. They are familiar with the name River Wonderful and speak glowingly about the mysteries surrounding it.