Are you considering taking a holiday trip to Nigeria and you are wondering what tourist sites to visit. Nigeria is very rich in culture. It has a total of 36 states and its capital city is Abuja. They are so many things to see and do that you will not be able to accomplish them all in one visit. Here are the top places you can't afford to miss when you get to Nigeria.
Badagry
Badagry in located in Lagos State. This is one of the first tourist sites you might get to see when you get to Nigeria since your flight will be arriving in that city. Badagry was well known for its slave trade. Badagry was one of biggest slave routes in the early 1500s. The site showcases what slaves went through before they were boarded on ships and taking out of Africa.
Benin City
Benin City is about 5 hours journey from Badagry. It is located in Edo state. If the road is bad or in bad weather conditions, be prepared to spend over 7 hours on the road. Your best option would be to get a flight from Lagos to Benin and it should take you no less that 35 minutes to arrive in Benin city. The city is very famous for it's unique bronze and ivory work of art. The royal palace of Benin and the Benin moat is a must see attraction. The kingdom of Benin started around 900 AD. The Benin moat spans a distance of 6213.7 miles and was dug around 800 AD up to the late fifteenth century.
Obudu
This area is located in Cross River state. It is known for its famous Obudu Mountain Resort. Words can not fully convey how beautiful this place is. With lots of natural wonders and indescribable views. Once you get there, you will understand what I am talking about.
Arochuku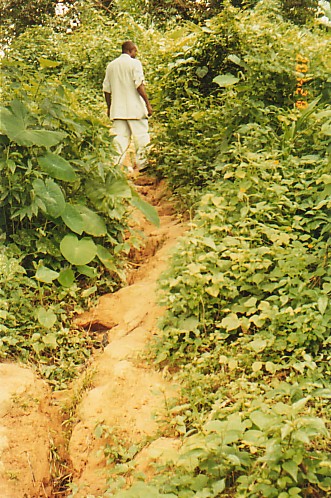 Arochuku is located along the cross river located between Abia state and Cross River state. The people are a mixture of cross river Igbos, Annangs and Ibibios. Most tourist who visit Arochuku go to see the slave route. On arrival you would normally be taken to Okoro Oji in Ujari which is the house museum which has a collection of materials and vestiges used during the slave trade.
Abuja
This is the capital of Nigeria. An ultra modern city with all the facilities you can find in any other modern city. It has a lot of architectural pieces, huge skyscrapers and lots of attractions. It is famous for its huge rock known as Aso rock.
They are many places to see in Nigeria but the once listed above are more than adequate for you to see. You can always ask at the airport for a tourist guide to other places. The people are nice and friendly and you can ask just about anyone for help.
Naijalife