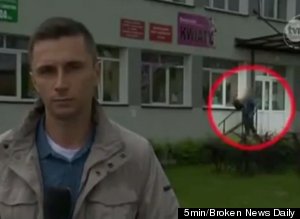 Andrzej Czapka is the worst kind of romantic: One with an arrest record.
Czapka, 30, of Lomza, Poland, recently broke up with his girlfriend, but hoped to woo her back the old-fashioned way by giving her flowers.
He didn't let the fact he had not one red zloty to his name stop him either: He just reached into the window of a local florist and stole a bouquet, police said, according to the Metro.
However, a live TV crew from TVN24 that was doing a remote in front of the floral business caught his action on camera. The reporter didn't see the theft, but hundreds of crime-fighting couch potatoes did and reported it to the police, NineMSN.com reported.
When Czapka was arrested for the theft, he allegedly told police he'd recently broken up with his girlfriend.
"I wanted to win her back with some flowers but I had no money," he told police, according to the Daily Star. "I didn't even see the film crew."
Czapka isn't the first thief with bad luck.
Back in May Katherine York, 22, was charged with possession of a stolen vehicle after she drove the car through a McDonalds drive-in where the owner of the car worked.