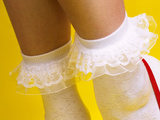 A school has banned its pupils from wearing frilly socks.
Kingsholm Primary School in Gloucester wrote a letter to parents outlawing the socks after a girl tripped over, Metro reports.
Students are now not allowed frills that are longer than 3cm.
Socks decorated with frills, ribbons and bows have become a popular craze at the school, but headteacher Jan Buckland thought they were a health and safety hazard.
She said: "The safety of pupils is paramount. As a result of a health and safety incident, we have changed the school's uniform policy."
Pupils caught wearing the embellished garments will have to change into a plain pair bought by the school.
Tracy Rudge, who makes the socks for her 6-year-old daughter, is against the ban.
She said: "They have gone health and safety mad. One girl tripped over, but it was nothing to do with the socks."
She continued: "It's a joke – shoelaces are a million times more dangerous. Little girls love wearing them – they feel like Disney princesses. I can't see what the harm is really."