Apple is testing iPhone display screens as large as 6 inches, according to a new report.
The screens, ranging upward from 4.8 inches, would be a pretty massive leap from the 4-inch display on the iPhone 5. But don't expect to see them when Apple rolls out new iPhones next week.
Citing "people familiar with the matter," the Wall Street Journal on Friday reported that the bigger screens could signal a future move by Apple to offer iPhones of various sizes. That would put them more in line with their chief rival, Samsung, which has put a dent in the iPhone's dominance with devices like their Galaxy S and Galaxy Note lines.
On Wednesday, Samsung unveiled its Galaxy Note 3, with a whopping 5.7-inch display that further blurs the boundary between large phone and small tablet.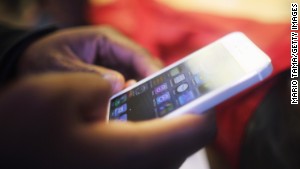 The iPhone 5's screen is 4 inches across. Future iPhones may be bigger.
On Tuesday, Apple is expected to roll out two different iPhones — an update to the iPhone 5 and a cheaper model that would be designed to appeal to buyers in emerging markets like China and India.
Apple CEO Tim Cook has knocked Apple's rivals for making "trade-offs" in order to pack larger screens into phones, although he has not ruled out such a move for future iPhones.
Opinions are split on whether Apple will also introduce other products, like a new iPad or a much-anticipated smartwatch, next week.
The Journal report said the iPhones unveiled next Tuesday will likely have the same size screen as the current model. An Apple spokesperson, predictably, declined to comment.