With the year ending in just three more days, I decided to round up a few shocking things that happened in English football this calender year.
Some are good, some bad, and some just bizarre, but all that made English football even more interesting and exciting to watch.
5. Squirrel On The Pitch!
A funny one to start off with, English football saw a new spectator join the viewing action – a squirrel.
The little creature, probably a QPR fan now, was chased around for 10 minutes before the match could be resumed.
Something humorous and cheerful for the fans to see in 2013, and something we probably won't see again in 2014.
4. Bradford In Capital One Cup Final!

Bradford pulled of a big surprise this year by reaching the finals of the Capital One Cup. The team would have obviously been a little disappointed to have lost in the final, but the effort is commendable to say the least. Parkinson became the first manager to take a fourth tier club to a major final at Wembley, and this was a record we never expected to be broken.
3. Best Goal Of The Year?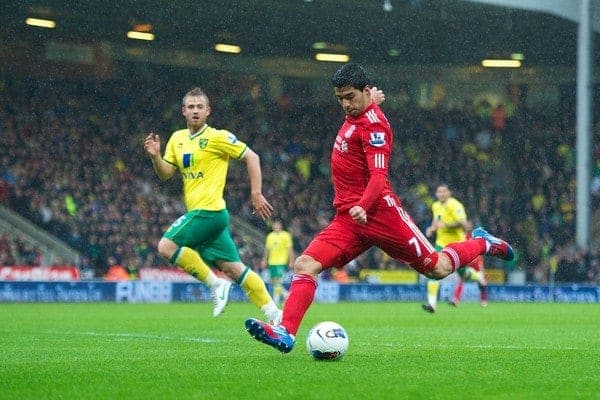 Suarez has been in scorching form, whether it was last season or since returning from his ban this season.
The best goal in the Premier League this year surely has to be his volley from about 35-40 yards out versus Norwich.  A stunner for sure
2. Ozil to Arsenal! Bale to Madrid! – Money Talks
Money ruled the transfer window this summer as we saw Gareth Bale become crowned the worlds most expensive player.  Additionally, on deadline day we saw a 42.5 million deal between Arsenal and Madrid with the transfer of Mesut Ozil to London from Spain.
Money spoke and shocked a lot of people in the window, something nobody expected from Arsenal.
1. Fergie Departs – The Premier League Gets Interesting
Many would have said that the league wouldn't be the same without Sir Alex, but those people were very wrong.
The Premier League took a turn for the best when Sir Alex departed, as the title rice is wide open at this point in the season with two points dividing the top five teams.
Yes, it would've been great to still have him around and it was shocking that he left, but its all for the better as we can see.