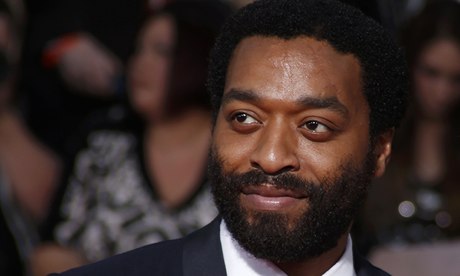 Chiwetel Ejiofor  has won best actor at the 2014 Baftas for his role in Steve McQueen's slavery drama 12 Years A Slave.
He drew huge cheers as he reached the podium to receive his award. "I'm so deeply honoured and privileged," he said, thanking director Steve McQueen. "Thank you for you work, your artisty and your passion in this project … to make it of such value, of such worth. This is yours by the way – I'm going to keep it, that's the kind of guy I am, but it's yours."
He has beat the likes of  Tom Hanks, Leonardo DiCaprio, Christian Bale and Bruce Dern to win this award.
He thanked his fellow cast members, including Michael Fassbender, saying "you are a marvel" and called them all "an extraordinary group – everybody bringing an extraordinary passion to this project". He also thanked his family, telling his new niece and nephew, Hero and River, that: "we will endeavour to make a world you are proud of."
Ejiofor appears in almost every scene of the film playing Solomon Northup, a free man who is kidnapped and sold into slavery. Guardian film critic Peter Bradshaw described it as "a performance of incomparable heroism and presence".
Speaking to press after his win, Ejiofor said that when he first received the script he was "struck with self-doubt" at the thought of playing the a slave because of the gravity of the story and the challenge of the role. The source material changed his mind. "Actually, it was about understanding and connecting to Solomun Northrup … it was a way for me to tell the story, and the rest could be revealed."
In conversation with the Guardian last year, Ejiofor said: "we live in the same era as the events that these things happened in, with seismic differences, but also with numerous similarities. So we understand our societies through the history of our societies, so we can draw parallels and relevances from stories like this."
Excepting his OBE, it is Ejiofor's first major award following five Golden Globe nominations, along with a Bafta nomination for the rising star award in 2006. He has blended supporting roles in big-budget Hollywood fare (2012, Salt) with British productions (Love Actually, Dirty Pretty Things) and acclaimed TV movies and series, including last year's Dancing on the Edge.
He is currently filming Z for Zachariah, a post-apocalyptic drama co-starring Wolf of Wall Street's Margot Robbie, and will next appear in Half of a Yellow Sun, an adaptation of the novel by Chimamanda Ngozi Adichie.