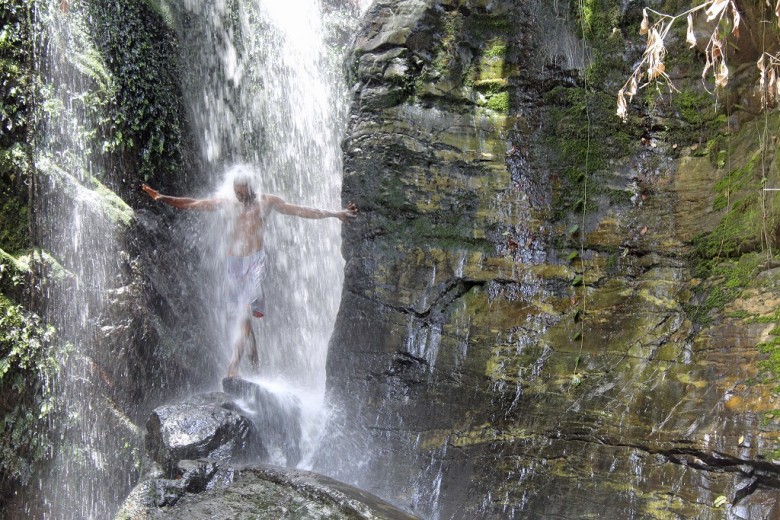 Nigeria is a beautiful country blessed with some of the most stunning natural spots in the world. Often times, many Nigerians flock abroad looking for amazing resorts or tourist centres to cool off, but ironically there are very amazing tourist centres in Nigeria, that they could visit, but have no idea those kind of places exist. INFORMATION NIGERIA  has put together 5 amazing natural swimming pool, a lot of Nigerians probably didn't know exist in Nigeria…
Erin Ijesha (Olumirin): is a seven step waterfall in Osun State, Nigeria, and each step of the waterfall has a flowing fountain that marks the mystical nature of the place. The much talked about Erin Ijesha (Olumirin) waterfall is a popular tourist attraction in Osun State, Nigeria. According to Vanguard, Olumirin water fall, is the most visited tourist site in Nigeria today and as at November of 2014, from January to November the tourist site  grossed 50,000 visitors. No other tourist site has had that level of patronage.
Ikogosi Spring: Ikogosi warm spring, tucked away in the rustic and serene town of Ikogosi-Ekiti, is one of the tourist attractions that this country could be proud of because of the history and myth behind the attraction.  What is mysterious about the Ikogosi Warm Spring is the fact that, flowing side by side the warm spring, is another spring, a cold one.The warm and cold springs of Ikogosi originate from a close proximity, come to a meeting point, and flow onward together with each spring retaining its thermal identity.
Owu falls: is the highest and most spectacular natural water fall in West Africa, and is located in Ifelodun Local government area of Kwara State. The water fall stand as one of the symbol of nature which it existence is untraceable, but can only be appreciated and promoted by exploring. The water fall is 120m above water level and cascades 330 feet down an escarpment with rocky out crops to a pool of ice cold water below. The water falls is surrounded with a beautiful natural ambience and hills which makes sightseeing a memorable experience. The waterfall is characterized with fall of ice cold water, beautiful rocky part and walk ways, and evergreen surrounding.
Agbokim Waterfall:  is situated about 17 kilometers from Ikom and 315 kilometres from Calabar in the Etung Local Government Area of Cross River State. It is quite near the Nigerian-Cameroon border. Its nearness to neighbouring Cameroon avails travellers and tourists a unique opportunity for cross-border experience. The waterfall is made up of seven streams which cascades over steep cliff, providing a seven faced falls. It is actually sits on the Cross River and descends in terraces, through the tropical rainforest. The rainforest in itself is scenic as it looks lush and green. The fall is also surrounded by steep hills and valleys which are enclosed in a rainbow-like atmosphere.
Gurara Waterfalls: is one of the famous tourist sites in Nigeria. Located in Niger State and close to FCT, the site is popular with foreigners and Nigerians who visit the recreational area to swim, have picnics and go bird watching.  The Gurara Wateralls was reportedly discovered in 1745 by a Gwari hunter called Buba, as he was travelling from Zaria to hunt for animals.