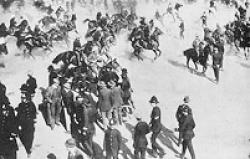 On this day in 1913;
 a scuffles broke out between police, mounted soldiers and a riotous crowd at the Johannesburg market square in South Africa. This was during the first miners' strike. The police were severely assaulted after strikers attacked them with stones.
The mob refused to disperse and fired shots at the military. One of the ringleaders, a tall red-headed miner from Nigel named J L Labuschagne, twice walked into the street, threw out his arms and cried, "Shoot me!" The second time, when the crowd behind him began to move forward, he was shot dead; a 13-year old boy, Monty Dunmore, was shot through the back while selling Strike Heralds to the crowd outside the Rand Club, and horses were killed in the crossfire. – See more at:
Also on this day in 2014; Delegates at the National Conference in Nigeria, voted for rotation of Presidency between the North and South and among the six geo-political zones.
The delegates, however, shot down a proposal for a single term of six years for the President. The principle of rotation, which was also adopted among the senatorial zones in the states, the delegates resolved, should also spread to the local government level.
Equally on this day in 2001;  Congolese President Joseph Kabila and Ugandan President Yoweri Museveni meet for first face-to-face peace talks in Tanzania as part of an effort to end the three-year war in Congo.Â
And on this day in 1979 ;Ahmed Ben Bella, former president of Algeria, was released after fourteen years in prison following his eccentric and arrogant behavior coupled with his increasingly autocratic rule.
Bella's government was overthrown by Houari Boumedienne, his close friend in 1965. He was placed under arrest for the next 14 years. He was released on 4 July 1979 and placed under house arrest until 1980. Bella died on 11 April 2012.