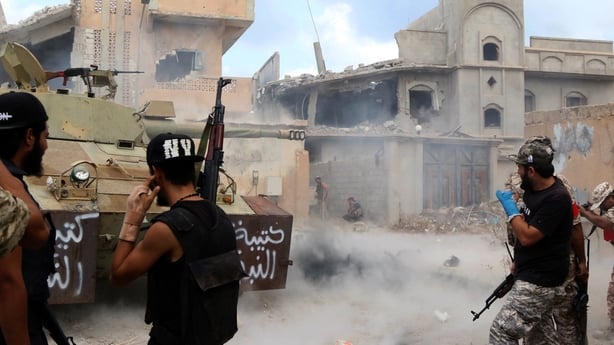 Eighteen fighters loyal to Libya's UN-backed unity government were killed and 120 others wounded in clashes on Sunday with the Islamic State group in Sirte.
A field hospital for the forces backing the Government of National Accord (GNA) listed the names of the 18 fighters killed in the coastal city, as loyalist forces pushed into the last areas held by IS in Sirte.
The pro-GNA forces are pressing a months-long campaign to retake the city from the jihadists, who overran it in June 2015.
Earlier, a spokesman for forces backing the GNA said: "Our forces entered the last areas held by Daesh (an Arabic acronym for IS) in Sirte: district number one and district number three."
About 1,000 pro-GNA fighters were taking part in the offensive, he said, adding a tank had destroyed a bomb-rigged car before IS jihadists could use it to target the forces.
Pro-GNA forces, backed since 1 August by US air strikes, began an assault in mid-May to expel IS from Sirte.
The jihadists seized control of the city, which had been the hometown of Libya's slain dictator Muammar Gaddafi, in June 2015.
The pro-GNA forces fought their way into Sirte on 9 June and seized the jihadists' headquarters at the Ouagadougou conference center on 10 August.
Since entering the city, they have faced a barrage of sniper fire, suicide bombings, and booby traps, pinning down the jihadists in a downtown area near the sea.
More than 350 pro-GNA fighters have been killed and nearly 2,000 wounded in the battle, according to medical sources. IS casualty figures are unavailable.