In China, a man was mistaken as a patient and received surgery to remove haemorrhoids at a hospital while he was waiting for his wife to give birth.
At Hunnan Hospital in Shenyang City, Liaoning Province, the surgery room for pregnant women having cesarean sections is close to a smaller one for haemorrhoid patients.
The man surnamed Wang said he waited anxiously for about 40 minutes outside the surgery room before a doctor beckoned him in and ordered him to take off his pants.
The doctor said briefly, "just do what you are told" when the 29-year-old man asked for a reason.
Wang said he feared to be laughed at if he asked further so he lied down on the bed.
During his surgery, Wang said he heard the cries of his newborn baby, then felt a pain in his bottom after leaving the bed.
Wang called his experience "unbelievable" and demanded an explanation from the hospital.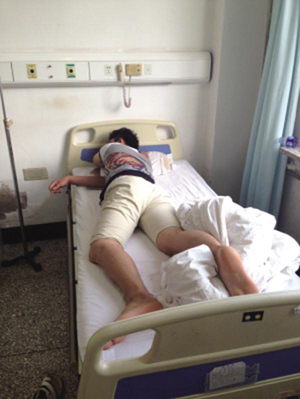 The hospital later said it was a mistake and promised to pay 5,000 yuan ($750) in compensation, adding that Wang really did have haemorrhoids.
A legal affairs officer working for the hospital said Wang should be partly responsible for the wrong surgery because he is an adult.
He still needs rest from the unexpected surgery but is happy both his wife and child are in sound condition.
Wang said his only regret is that he can't currently take care of his wife.