US actor and martial artist Steven Seagal has been granted Russian citizenship on Thursday upon a decree by President Vladimir Putin, reports say.
Seagal, who has starred in such Hollywood blockbusters as "Hard to Kill" and "Under Siege," is a seventh-degree black belt in the martial art of aikido and a reputed friend of Putin, who also shares a passion for martial arts.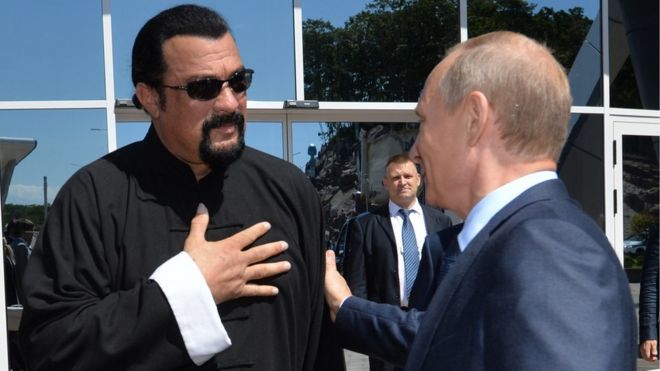 The 64-year-old action movie star has publicly supported Russia's annexation of the Crimea region in neighbouring Ukraine, an issue of strong contention between Russia and the West.
Russia's occupation and subsequent annexation of the peninsula two years ago, in response to Ukraine ousting its pro-Russian president, was met with outcry by Western governments and a series of sanctions against Russia.
Seagal told Rossiiskaya Gazeta, a Russian newspaper, shortly after the annexation that it was "very reasonable" in order to protect the region's Russian-speaking residents and secure a major Russian naval base there.
Seagal, who grew up in California, has claimed to have Russian and Mongolian ancestry.
He often visits Russia and said on a trip to the far eastern Russian region of Sakhalin in September that he would like to have Russian citizenship to spend more time with his Russian friends.
Steven Seagal isn't the only one to be granted Russian citizenship by Putin. French actor Gerard Depardieu and US former world champion boxer Roy Jones Jr, both of whom have support Russia's annexation of Crimea, have also been handed citizenship by the Russian leader.