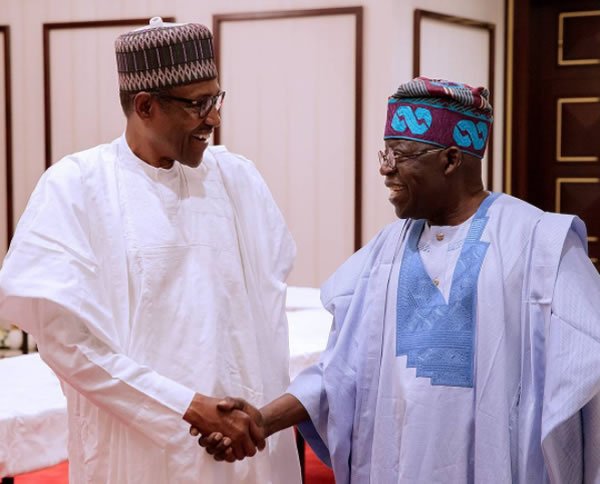 President Muhammadu Buhari has designated Asiwaju Bola Ahmed Tinubu to lead the consultation, reconciliation and confidence building efforts among members of the All Progressives Party, APC. The assignment is said to involve resolving disagreements among party members, party leadership and political office holders in some states of the Federation. Some Nigerians are saying Buhari is only good at using Tinubu as the latter had no say in his government until now that there is fire in APC.
Here are some reactions below;
The president is a great player, he knows he had already lost election in Benue, Gombe, Taraba, Nasarawa and with South South and South East not APC friendly, the only hope is Tinubu in the South West, 2019 will be a good ground to judge if the South West truly love Nigeria https://t.co/a6DyU37LYv

— Freke Idio (@freke_idio) February 6, 2018
I want to believe Buhari has something on Tinubu and willing to use it if Tinubu does not play ball. Its the only reason Tinubu will do anything Buhari asks after the betrayal, disrespect, level of nepotism and bad governance we have witnessed….. https://t.co/vLioi3aBG6

— usman ibrahim (@ikhanaib) February 6, 2018
Too late. Just because of 2019. After the elections, they dump them again. Old ideas. We are going digital in 2019 ,say no to analogue in 2019.

— I am b!fferent★ (@biffamna) February 6, 2018
Barely 12 months to #FeBuhari 2.0 , Buhari has appointed Bola Tinubu as head , APC reconciliation committee.

To gauge Tinubu's loyalty

Poor Jagaban

— IKECHUKWU (@iykimo) February 6, 2018
Tinubu will be a fool to co-operate with Buhari. I wonder if Buhari thinks Tinubu will listen to him after placing him on the bench for three years.

— Nnamdi Abana (@talktonnamdi) February 6, 2018
What do you think???