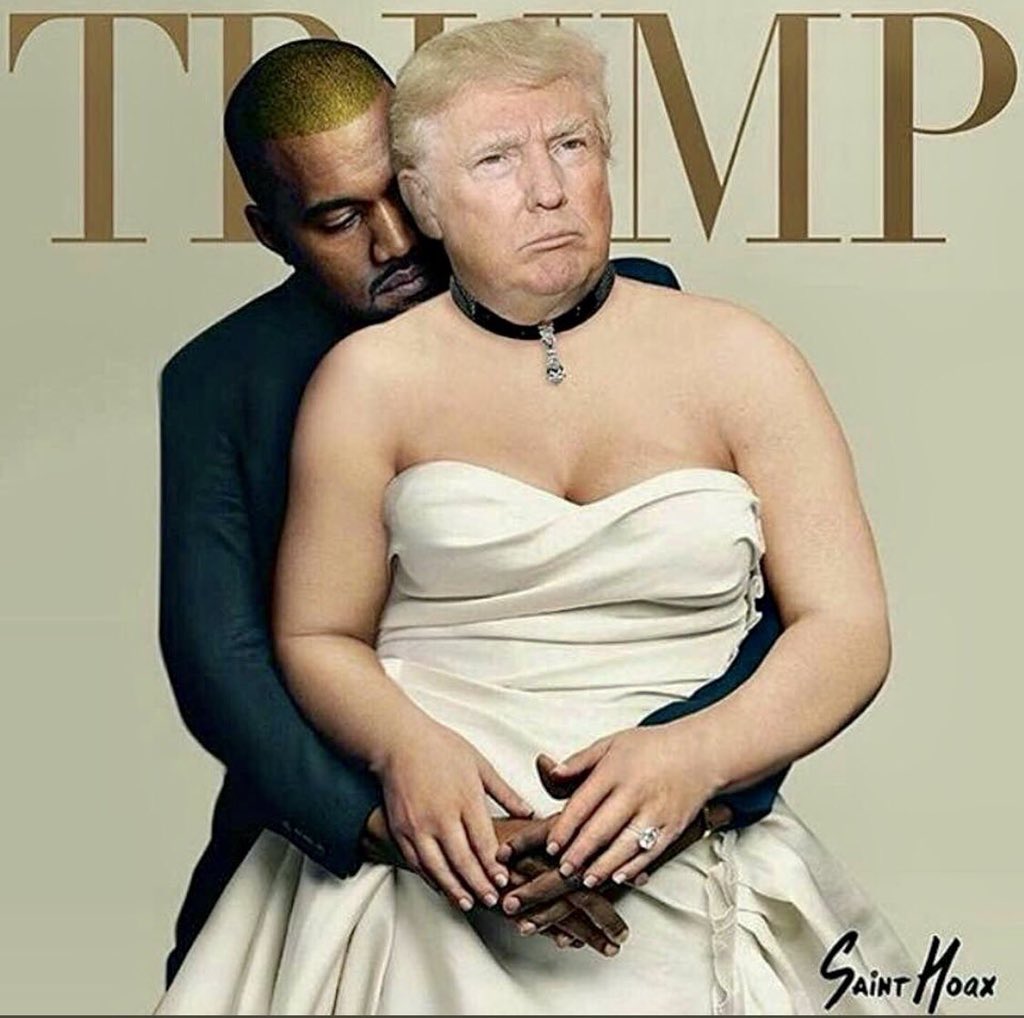 Controversial American rapper, Kanye West has caused a melt-down on social media, after he made comments that the Black community found offensive. West, who was hospitalized in November 2016 due to exhaustion, has now come under fire after his recent return to Twitter for tweeting his support for US President Donald Trump.
West, 40, posted a series of tweets declaring his love for Trump, including a photo of himself wearing one of the president's red "Make American Great Again" hats.
What Kanye wrote
You don't have to agree with trump but the mob can't make me not love him. We are both dragon energy. He is my brother. I love everyone. I don't agree with everything anyone does. That's what makes us individuals. And we have the right to independent thought.

— KANYE WEST (@kanyewest) April 25, 2018
Obama was in office for eight years and nothing in Chicago changed.

— KANYE WEST (@kanyewest) April 25, 2018
Trump thanks Kanye West for Twitter compliments
Thank you Kanye, very cool! https://t.co/vRIC87M21X

— Donald J. Trump (@realDonaldTrump) April 25, 2018

Kanye Fans React
Kanye On Drugs *bangs gavel* https://t.co/QwUMNkhwkg

— DJ First Class™ (@1DJFirstClass) April 26, 2018
People who call themselves Kanye fans acting all surprised by his recent tweets, if you follow Kanyes music, you'd know he's nonconforming, weird and sees things from an entirely different angle.

And yeah, the real Kanye doesn't care, he is Kanye.

— Mr. Jack Robinson (@jackdre02) April 26, 2018
Kanye gotta album bout to drop he know y'all dumb enough to give him what he wants so he trolls. Like this what the world came to smh… I'm prolly born in the wrong generation. Smh

— Strizzy (@JaelenStrong) April 26, 2018
Justin Bieber, The Weeknd, Rihanna, Ariana Grande, Harry Styles, Katy Perry, Nicki Minaj, and Kendrick Lamar are among some of the artists who have unfollowed Kanye West on Twitter after his open support of Donald Trump.