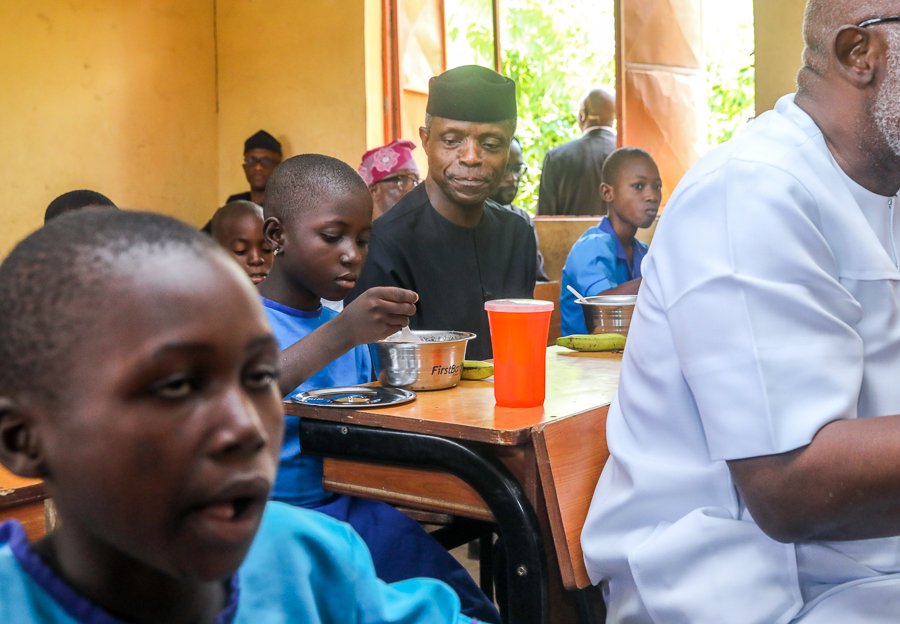 Vice president Yemi Osinbajo was at Alagbaka Primary School, Akure. He visited the school to review progress of the HomegrownSchool Feeding Programme. According to Prof Osinbajo 7.6m children are being fed in 24 states already. The VP who had the pleasure of teaching some pupils of the school also had lunch with them. Osinbajo via his Twitter handle wrote;
As parents, we are always concerned about the feeding and nutrition of our children.We insist our children are fed at least once a day with nutritious meals. I understand 35 new pupils have joined this school in the last 10 days Feeding brings our kids to school.
VP Osinbajo & Ondo Gov sharing the meal with Primary 3A pupils as he visits Alagbaka State Primary School, Akure to review the Buhari administration's Homegrown School Feeding Programme which now feeds over 7.6m children across 24 States pic.twitter.com/KUy5d3aPN2

— Laolu Akande (@akandeoj) May 4, 2018
Some Nigerians were not impressed with what they called 'PR' by Mr VP and went on to fire shots at him.
Reactions from Nigerians
Elections are near, Osinbajo is now useful to APC for PR purposes again. He is now eating Banana with school children. Look out for him buying roasted corn on ur Street. U may bump into him inside BRT on ur way to work~if care is not taken, he will appear in Davido's Music video

— Prof Stanley Nwabia (@MrStanleyNwabia) May 5, 2018
https://twitter.com/jidkod/status/992742851913158656
Election's fast approaching. #beware of the Greeks and their gifts

— Royalty`×ystus (@xystus2012) May 7, 2018
Osinbajo you are unbelievable. It is unfortunately that none seems to be icon of hope.

— Amb. Nanven Goselle (@NGoselle) May 7, 2018
I won't be surprised if I see u inside BRT tomorrow or see u trekking down our street, 2019 is around the corner. It's a pity it's u that they choose to use for this sort of propaganda.

— Paparazzi (@Unruly_kingray) May 7, 2018
I won't be surprised if I see u inside BRT tomorrow or see u trekking down our street, 2019 is around the corner. It's a pity it's u that they choose to use for this sort of propaganda.

— Paparazzi (@Unruly_kingray) May 7, 2018