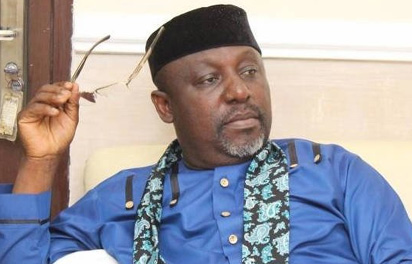 Imo state Governor Rochas Okorocha threw an interviewer into confusion during a  recent Channels Television's Programme, Roadmap To 2019.
The Governor during the course of the chat, where he advocated that emphasis should be placed on intelligence rather than zoning while fielding candidates for the 2019 general elections used  the word Iberiberism and the interviewer was lost.
The interviewer asked Okorocha to interprete but he (Okorocha) asked the interviewer to go look up the word. Popular Twitter commentator shared the 34sec video on the platform.
See video below
See video below
https://twitter.com/ogundamisi/status/1001609480885415936
Some Nigerians were kind enough to help us with a translation. See reactions below;
Iberiberism is a well known wors in Igbo land. He used it in the right context. Its and 'englishnized' igbo word IBERIBE which simply means foolishness or act of being foolish

— Joseph Anyajike (@JosephAnyajike) May 30, 2018
What a comic! In other word (in English) Iberiberism ia an act of foolishness! Onye iberibe is a fool. I think I love this man called Rochas.

— Ug (@UgAtoba) May 29, 2018