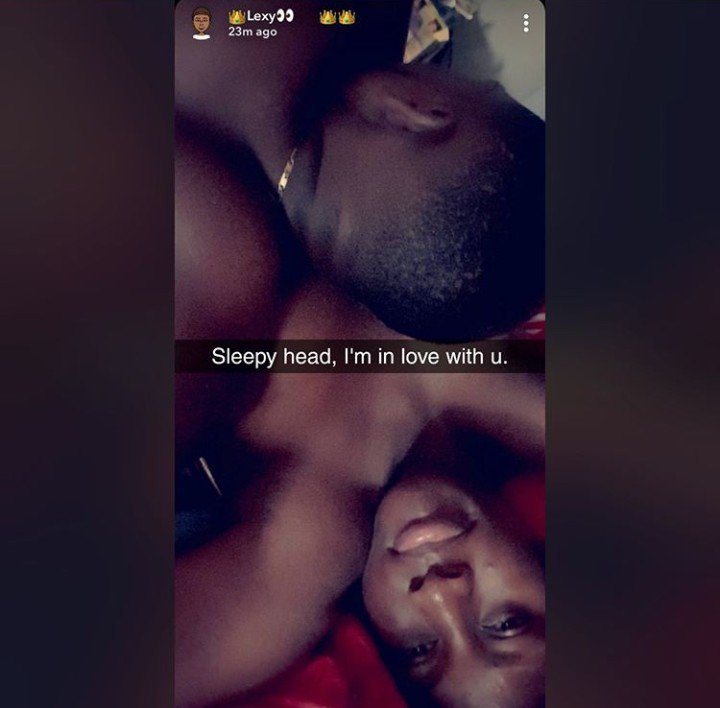 Former Big Brother Naija housemate, Alex Asogwa, posted this Nude Photo of herself and a man on her Snapchat and everyone couldn't but wonder who the mystery man is. However, a few minutes after uploaded the photo, she supposedly deletes it and claimed,  hackers hacked her account.
Asogwa said she does not have a photo like that on her phone and claimed that her Snapchat account where the picture was posted had been hacked.
"I really do not understand what people will gain by making this kind of picture," she said.
Asogwa also pleaded with those she claims are behind the picture.
"Whatever fight you guys are putting up hasn't gotten to this extent," she said.
Well, some fans say it wasn't a hacker but Alex and the man was Tobi, her bestie whom she isn't dating. See what this fan wrote:
🤔I was looking at the hair, trying to give a benefit of doubt, but than Tobi's recent post confirms that he had a haircut just the other day. So Alex evidence is piling up against your 'hacked' claim. Just own it, it's OK. Love made you do it, we know #BBNaija pic.twitter.com/y1QhJHBD2F

— Virtuous Woman ❤️ (@Janele5madz) May 20, 2018
However, another fan said haters are just being jealous and had to come up with this nude thing just to make Alex and Tobi look bad. See what this fan said:
Just saw #Alex trending and I saw the photoshopped picture.. Nigerians are so hypocritical in nature.. Teddy A and Bambam, Miracle and Nina had sex on live TV yet most of y'all defended their actions but ordinary picture is giving most of y'all hard on. #BBNAIJA Awon ode 😂😂

— O. L. O. G. O 🌚 (@TheOlogoOlutoye) May 20, 2018