The presidency says it has done the following regarding the recent killings in Plateau State, that claimed over 100 lives. After the brutal attacked attacks in 5 communities in Barkin-Ladi, Riyom and Jos South LGAs, that saw the gruesome murder of nearly 200 or more innocent unarmed Nigerians including young children, Nigerians have continued to demand justice.
Therefore, a bid to answer some of these question, the government has outlined what it has done  in order to forestall a recurrence, rebuild affected communities, and promote peace and dialogue, here are the things government has done;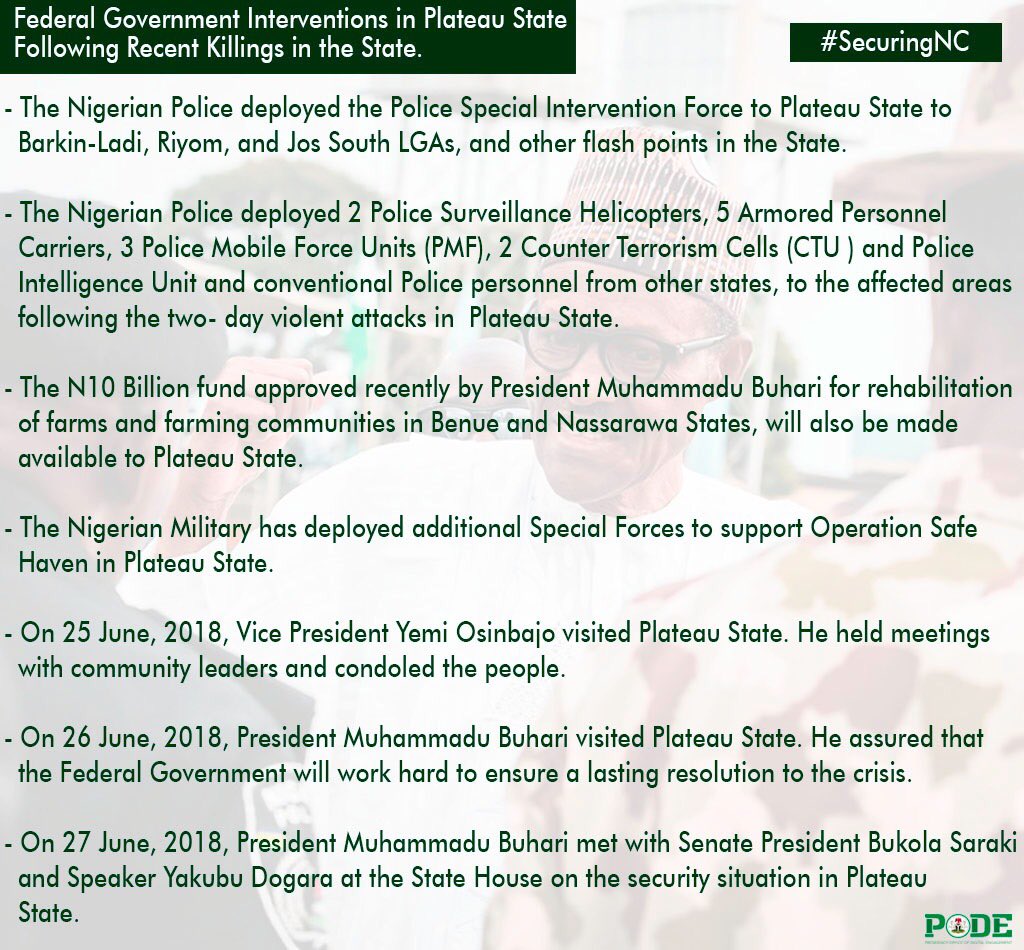 Nigerians in their response to this statement say these actions taken by government is not enough, as no one has been arrested nor has the presidency deemed it necessary to declare these Fulani herdsmen a terrorist group.
See reactions
Nothing about Miyetti Allah leaders even after claiming responsibility? This is wickedness! Trust me your reign is very close to an end.

— Seun Sulaiman (@seunsulaiman) June 27, 2018
Not enough…!!!!
You know we know that you know the perpetrators…BRING THEM TO BOOK…ALL OF THEM!!!!!!!!
then will we be appeased

— Adebhaller Akinbobola (@adebhaller) June 27, 2018
Benue, Taraba, Kaduna….and now Plateau. Same thing happened, same useless speech and wasteful visit then it happens again. It's all a loop, but posterity will spit at the mention of your name

— Obeka John Egwa (@dRealFab) June 27, 2018
This is utterly nonsensical. So you think Nigerians will be fooled by the security agents that was put in place to guard against reprisals and disharm the victims abi?

— Akinloye NG (@kadetumi) June 27, 2018