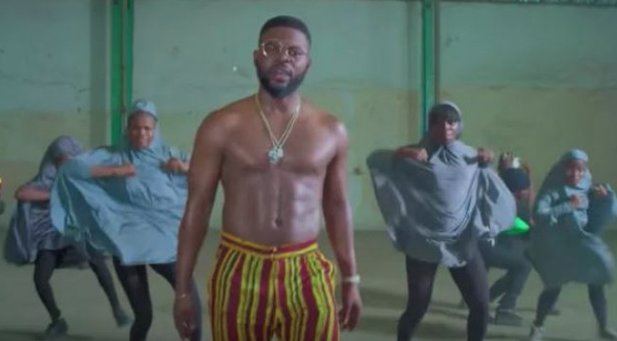 The Muslim Rights Concern (MURIC) has asked Folarin Falana aka Falz to withdraw his 'This is Nigeria' video and apologise to Nigerians, or face legal action.
The 'This is Nigeria' video which has over 2 million views on YouTube since it was recently released video, saw some girls dressed in hijab dancing the "shaku shaku" dance.
Responding to criticisms that trailed the video, Falz explained that the girls were a representation of the abducted Chibok girls still in Boko Haram captivity.
In a statement by Ishaq Akintola, MURIC director,  the dancers in the video in no way depict the situation of the girls. Akintola also condemned "a character featured in the video, that dressed like a Fulani man, who suddenly abandoned his traditional guitar and beheaded a man"
See statement below
"MURIC rejects Falz' explanation that the girls in hijab in his 'Shaku Shaku' dance symbolize the Chibok girls because nothing in the video indicates that the girls represent the Chibok girls," the statement read.

"At least none of the Chibok girls have been seen dancing like a drunkard. They are always in pensive mood. Do they have any cause to be dancing? Are they happy?

"The video manifests ethnic bias against Fulanis while it ignored the criminal activities of ethnic militia of the Middle Belt who have also massacred Fulanis and rustled their cattle in their thousands.

"It is a hate video. This video has the potential of causing religious crisis of unprecedented dimension.

"It is an assault on the self-dignity of every Muslim. It is freedom of expression gone haywire.

"We therefore demand its withdrawal and an apology to Nigerian Muslims within seven days or the authors and their agents will face legal action if they fail to comply.

"Only the scenes portraying police brutality and the money-swallowing snake in the video are near the truth."
See reactions from Nigerians
Uncle using hijab for that video and dancing or whatever its very wrong and its a direct attack on islamic values.why is it that xtians find it easy to always mock islam at any slight opportunities. Cant he send his message without insulting islam?

— Malcom X (@MalcomShabaz) June 5, 2018
Then you have not seen dancing Jesus and many more, by the way he was not mocking, its an artists representation permissible under the Nigerian law, if you find it offensive join MURIC in the law court so we can have a judicial interpretation.

— Kayode Ogundamisi (@ogundamisi) June 5, 2018
Ishaq Akuntola is on his own.MURIC is just a society just like Boys Brigade.

— razaq lalas (@rlalas) June 5, 2018
The MURIC guy is turning into an irritant and can't appreciate the beauty of art. Both Catholic nuns and Muslims wear hijab, Go Siddon Ishaq

— Bawa Muhammed (@bawatuta) June 5, 2018