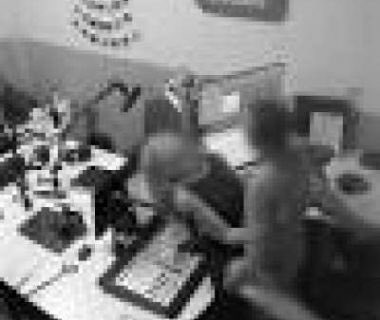 A radio employer's less than one-minute sex romp with his date lands on Facebook. The reporter  in the newsroom of Radio Maksimum in Ukraine, Kiev was caught on CCTV having sex with his date in his workplace.
It all started when the man was giving the young woman a guided tour of his workplace. Local media reports that, the lovers were unaware they were being filmed, when the reporter quickly took down his trousers while his girlfriend sat up on a desk.
Radio Maximum executive producer Slava Demin confirmed the footage was filmed inside the radio station office. The station boss said the people in the video were immediately identified but are not sure how the CCTV footage landed on Facebook. He said;
"We checked the footage once it appeared online and we know who the heroic lovers were.
"A Radio Maximum employee decided to have a date in the office.
"We don't know how the CCTV camera ended up on Facebook.
"Perhaps the person that did so was jealous although this was not exactly a long date."