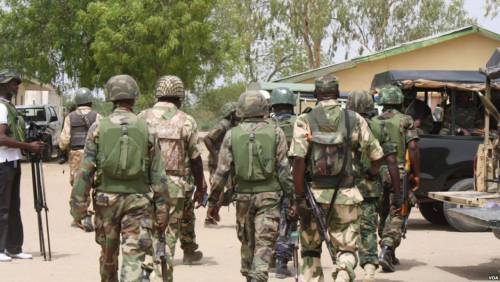 According to reports over the weekend, about 30 soldiers were killed by Boko Haram at Zari village in Guzamala Local Government Area of Borno State on Friday.
By this morning, the death toll of the soldiers was said to have risen to 42 – As hundreds of Boko Haram fighters stormed the base at Zari village, in the northern State late Thursday, in truck.  The Jihadists reportedly seized the town after a fierce battle, which ended in the death of over 40 soldiers.
However, the Nigerian Army on Sunday the reports saying, 'it is the figment of the imagination of foreign media. Army Spokesma, Brig-Gen Texas Chuwkwu said the insurgents were overpowered by the military, and they escaped with dead and the wounded.
He said;
"During the fire-fight, overwhelming volume of fire was unleashed on the insurgents from both the air and ground troops, neutralising several of them and their weapons.

"The Boko Haram took some of their corpses and fled while others escaped with bullet injuries, adding that normalcy and sanity was restored in the affected communities.

It is very unfortunate how people will just sit in the comfort of their zones and fabricate stories that don't exist, most especially the international media.

"Such false narratives, we have always believe are deliberate attempts to promote Boko Haram and their activities against the sovereignty of the country.

"That media organisation was said to have gotten their information from a security personnel and went ahead to file their report without making further inquiries.

"This is unethical and unprofessional to say the least,"
Reacting to the news, many Nigerians have expressed their sadness as well as their anger at the spate at which soldiers are being killed by insurgents. They also decried that, government has failed to honour these heroes by pretending their death never happened.
See reactions below
A few weeks ago 300 soldiers of the Nigerian Army were killed in battle by Boko Haram. They were buried in secrecy in mass graves. Yesterday another 30 were killed. Pres. Buhari has neither acknowledged their sacrifice nor admitted that they were killed. This is unacceptable.

— Femi Fani-Kayode (@realFFK) September 1, 2018
According to @vanguardngrnews the death toll from Boko Haram's attack on a military base in Borno has increased to 48, yet no condolence from the C-in-C. Instead, the @NGRPresident released a statement claiming "world leaders are queuing up to meet President Buhari" #RenosDarts

— Reno Omokri (@renoomokri) September 3, 2018
I cry for Nigeria and the Military. The spate of killings of Nigeria military officers by Boko Haram is alarming. My heartfelt sympathies to the family of the decease. may their souls Rest in Peace.

— Geebee (@AmedroviGbenga) September 3, 2018
The men & women of the @HQNigerianArmy are being killed almost daily by Boko Haram…but our @NGRPresident is busy living the baby boy life with his family in China.

These people have scammed us & even the media outlets are all in the conspiracy to "unlook" this tragedy.

— Lordbishop (@realDewoye) September 3, 2018