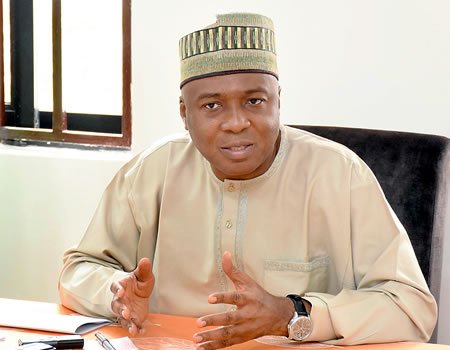 The National Assembly has postponed it's resumption to October 9 according to latest reports. The resumption was earlier slated for September 25 but in a statement addressed to the lawmakers by Mohammed Sani-Omolori, the National Assembly clerk, it said the resumption has been posted.
The statement read thus:
"This is to inform all Distinguished Senators and Honourable Members that resumption of plenary session earlier scheduled for Tuesday, 25th September has been postponed to Tuesday 9th October due to the activities of the primaries of the political parties.
See some reactions
Morning folks! Are we all going to remain quiet while Saraki and Dogara's NASS hold us captive? Sociopathy is what I am seeing in the action of NASS. No normal people can be this irresponsible. The INEC funding has not been passed & elections are barely 4 months away.

— Arinola (@iyaboawokoya) September 24, 2018
What the heck is going on? Is the Nation put on hold for Bukola Saraki @bukolasaraki to have time to go round on his Presidential ambition tour? He wants to rule over Nigeria but not interested in putting Nigeria first? https://t.co/CfsNOBiB57

— Aisha Yesufu (@AishaYesufu) September 24, 2018
Nigerian Youths, Are We Really Cursed , Or Are We The Cause ?
How can we allow one single individual @bukolasaraki to hold us to a Ransom ?? Bukola Saraki unilaterally shutdown NASS just for his personal aggrandizement .
For how long are we going to fold our hands ?Let's wake up

— onah chijioke (@CJodogwu) September 24, 2018
Saraki is not going to open the National Assembly until after the PDP national convention? What a man!!!

— Jerry Koko (@kokomatic) September 23, 2018
Bukola Saraki shut down NASS to pursue his personal goals/ambitions,he is going about campaigning to be the next president…is this not unconstitutional please??

— Maina! (@Its_Falmata) September 17, 2018
Bukola Saraki has forgotten he's the Senate President of Nigeria..
The 3rd Citizen of this Country who should be working hand in gloves wit d President n everyone to make this country work.
But he's all about the Nation, pursuing after his Personal desires.

Guys, I'm tired 😢

— TravelPro👨‍🏫/OgaHANS/ (@OgaHans) September 24, 2018