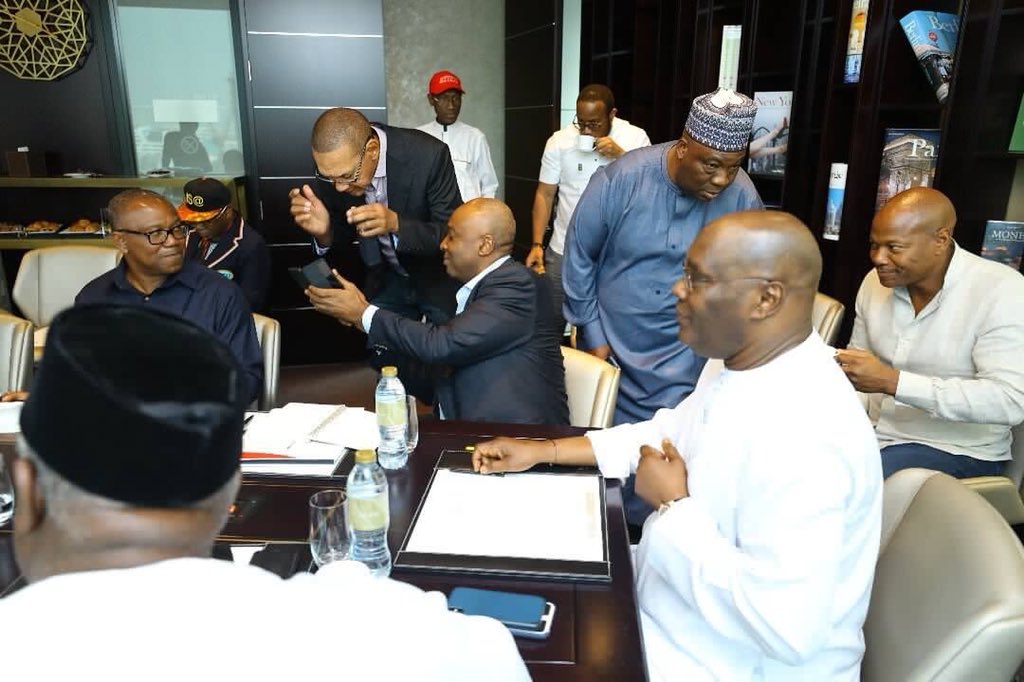 The ruling All Progressives Congress APC, has urged security agents to probe the recent meeting held by Peoples Democratic Pary(PDP) presidential candidate, Atiku Abubakar, and party chieftains in Dubai.
In a statement signed by APC deputy national publicity secretary, Nabena Yekini, APC said there was more than a "strategy meeting", whic was attended by Senate president Bukola Saraki, Senator Ben Bruce, VP candidate, Peter Obi and among others.
In the statemetn said said "There is more to the meeting that meets the eye. Nigeria has enough meeting/conference rooms, many of which meet international standards. It is therefore clear that the Dubai meeting was for other sinister political purposes ahead of the 2019 general elections. Our intelligence, anti-graft and security agencies must be awake to its responsibility of investigating the Dubai meeting. Cash-and-carry politicians must be prevented from moving illicit cash around to induce voters and sponsor election violence and rigging."
"We are mindful of how millions of dollars were confiscated in an aircraft belonging in a Nigerian PDP sympathiser in South Africa in the lead-up to the 2015 elections. Another round of election is here and it is not unlikely that they are playing a repeat performance, under the guise of holding a meeting in Dubai. Our security agencies should be on the watch for a stitch in time saves nine."
However, reacting to the statement, Ben Bruce and Femi Fani-Kayode, a former Minister of Aviation criticised the ruling party. According to Ben Bruce, when president Muhammadu Buhari travelled to UK, and spent 5 months, where he met with some APC leaders, no one in PDP complained.
See reactions below
Ben Bruce
How can @OfficialAPCNg say HE @atiku met with myself, @bukolasaraki, @PeterGregoryObi, @renoomokri and others in Dubai to plan against Nigeria? In 2018, @MBuhari spent 5 months in UK. He met with almost the whole leadership of APC there. Did @OfficialPDPNig complain or condemn?

— Ben Murray-Bruce (@benmurraybruce) November 5, 2018
Fani Kayode
The flagbearer of the opposition party travels to Dubai for a rest and to meet with other party leaders for a discussion about the way forward. The reaction of the ruling party is to call on the security agencies to probe all those that attended the meetng. Is this not madness?

— Femi Fani-Kayode (@realFFK) November 5, 2018