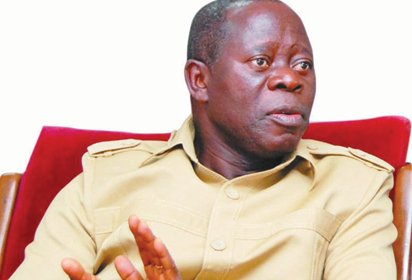 The National Chairman of the All Progressives Congress(APC), Adams Oshiomhole has said no one can intimidate him. The former Edo state, who was detained and interrogated by operatives of the Department of State Services (DSS), recently over allegations of collecting bribes form party member during primary elections, made it clear, he isn't a pushover.
Oshiomhole, who is at war with some governors of his party for not choosing their candidates, hailed himself as being a fighter of the oppressed. He said he "fought the fiercest juntas in our history without running to exile."
In his words:
I've never gone to President Buhari to ask him to help me fight any Governor, I go there to brief him on party affairs.

I've fought the military in uniform with guns in their hands, right inside their barracks, I have fought the fiercest juntas in our history without running to exile, so who are those privileged opportunistic civilians who can intimidate me?

My name is Adams Oshiomhole, I did not make that name from being a Governor or Chairman, go and do your research. I made that name fighting for the oppressed Nigerians, it is a name that connotes perseverance and ruggedness.
Speaking on the situation in Zamfara, wherein the Independent National Electoral Commission (INEC) stated that APC wouldn't be presenting any candidate for any position in the 2019 election in the state, Oshiomhole said, that would soon be taken care of.
APC is in safe hands, our primaries have been thoroughly concluded. Zamfara will be resolved very soon by the judiciary. We are moving forward without any bit of distraction.