Sometimes for lack of ideas, we find ourselves eating just anything for lunch everyday. This ends up making our lunch a pack filled with sometimes unhealthy and boring foods just to fill our stomach. So you are definitely tired of your lunch table looking boring and sad but have no idea how to switch things up a little?
Well, we have just the right ideas to jazz things up in the lunch department of your life. So from now on, you are going to be eating truly delicious, satisfying and nutritious soup, sandwich, and pasta recipes. These meal ideas are easy to make, totally affordable, not to mention healthy and of course delicious.
19 healthy meals you can have for lunch
Vegetable or fruit Salads
First of all, salads are easy and quick to make and doesn't require professional culinary skills. With everything you want in it, in a bowl and a good mix — You are good to go.
Another interesting thing about salads is the fact it has limitless flavour combinations. This means no more boring lunchtime. Trying various leaves, grains, colourful fruit or veggies, protein-rich meat, fish, tofu or eggs will increase your flavour and texture option. Don't forget to throw in some nuts, seeds, herbs, spices and dressings.
Homemade wraps
Well, you can never go wrong with some flatbread and tortillas. Apart from giving you another alternative to bread, filling it with protein-rich chicken and fish are great for your body and gives more filling options.
Sandwiches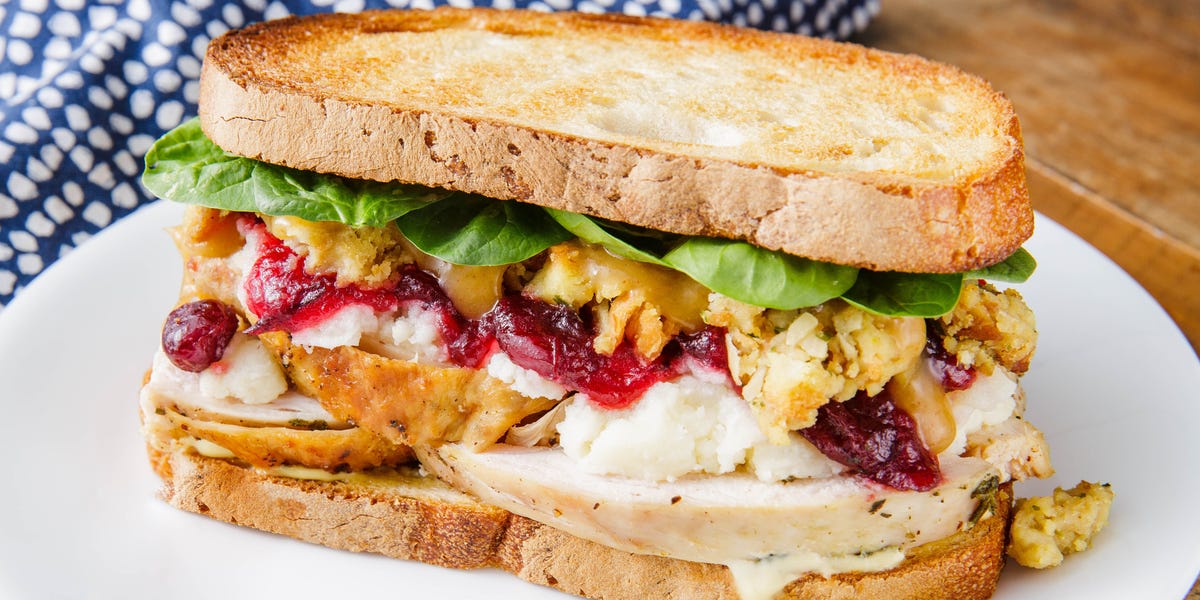 Show me someone who doesn't love a good club sandwich and toast toppers — none!
Sandwiches are delicious and just ring for lunch. Filling it with nutrient-dense ingredients is an easy way to get most of the nutrition that your body needs. So, if your packing it for lunch at the office be sure to pack the ingredients separately and assemble them when you're about to eat to preserve freshness.
Soups
Soups are excellent choices for lunch and are really filling. Interestingly most of them are simple to make, require just a handful of ingredients and are nutritious just how your body likes it.
Fiesta Chicken Rice Bowls
Just like it's name, the chicken and rice recipe makes your lunch time a fiesta. With lots of nice flavours, and a great a taste, your lunchtime is about to turn up.
This chicken and rice recipe contains tender, boneless chicken breast marinated in a delicious blend of spices like garlic, cumin, paprika and chilli powder, then laid atop a bed of hearty brown rice and shredded lettuce, and topped with zesty pico de gallo and melt-in-your-mouth avocado.
Charred Shrimp and Avocado Salad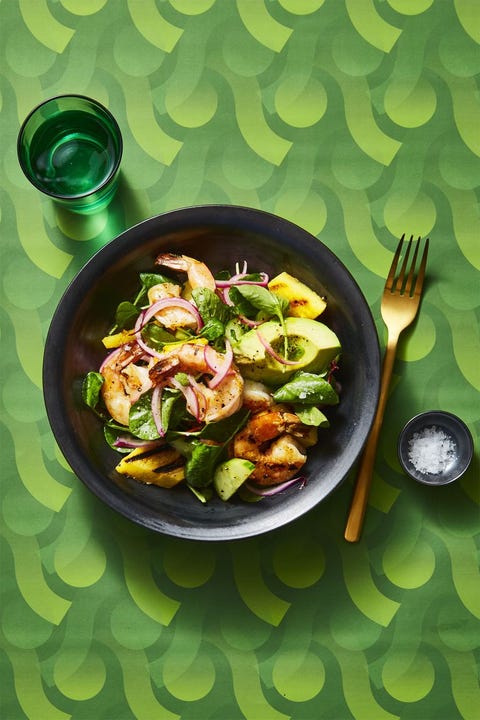 Never has anyone done wrong with avocados. And an avocado salad is everything but boring.
Roasted Salmon with Green Beans and Tomatoes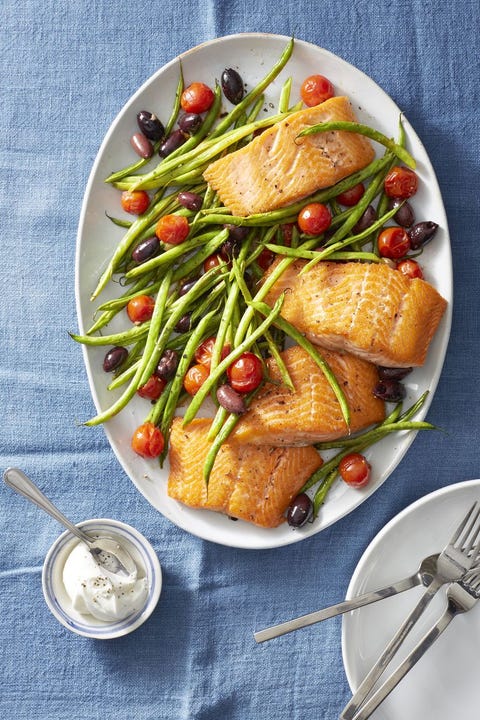 This is a classic example of a lunch pack full of omega-3s and protein.
Maple-Glazed Five-Spice Pork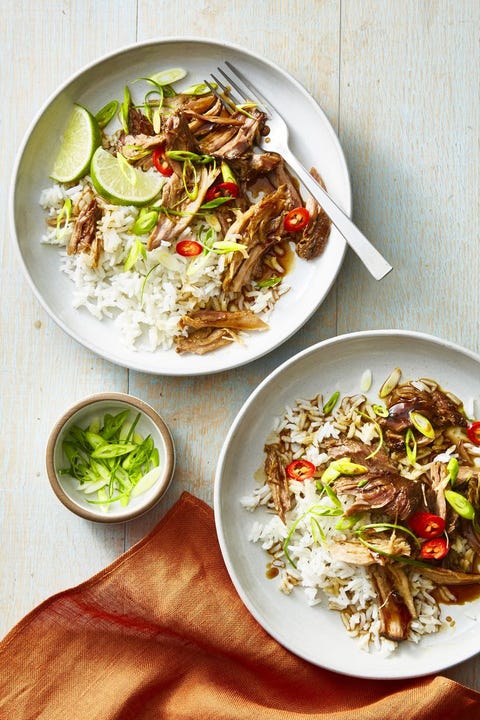 Lunchtime will definitely light up with this chile-infused shredded pork and maple syrup splashed(lightly) on it to balance everything up.
Chicken and Red Plum Salad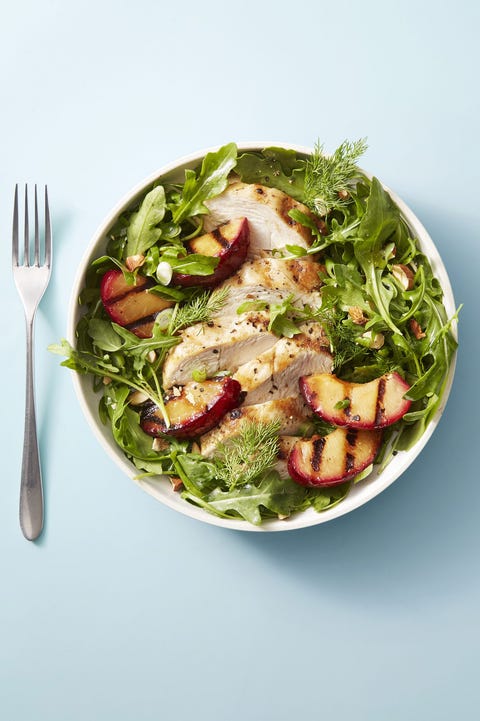 When the plum season comes upon us, we do ourselves and nature justice by making the absolute most of it. How hard is throwing a few charred plums on top a bed of grilled chicken and green? Yummy and fun.
Grilled Ratatouille Linguine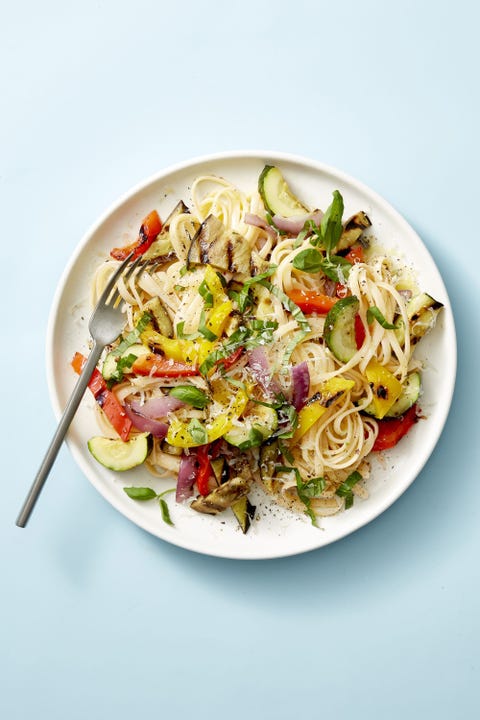 Going 50/50 with a medley of grilled veggies is there about the easiest way to lighten your plate of pasta.
Salmon BLT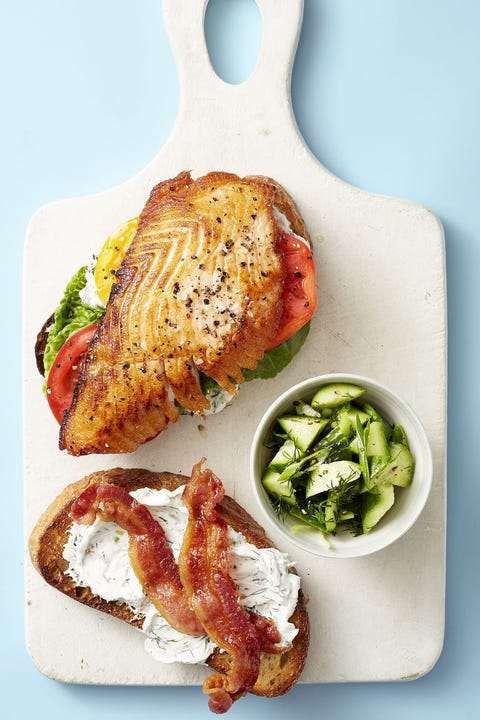 Combining your BLTs with salmon on the other hand, totally gives you the perfect combination for the nutrients that you need. Need we mention how delicious this is?
Grilled Steak Tortilla Salad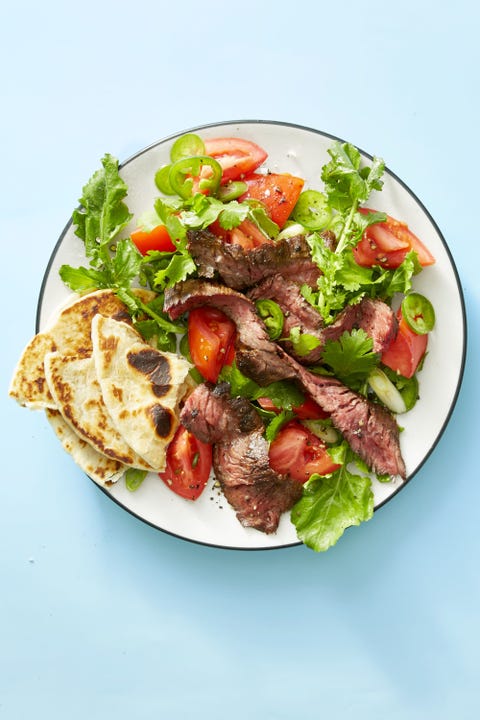 A taco salad is one approved way to bring the best out of your tacos. So it is filling and at the same time, delicious and healthy.
Butternut Squash and White Bean Soup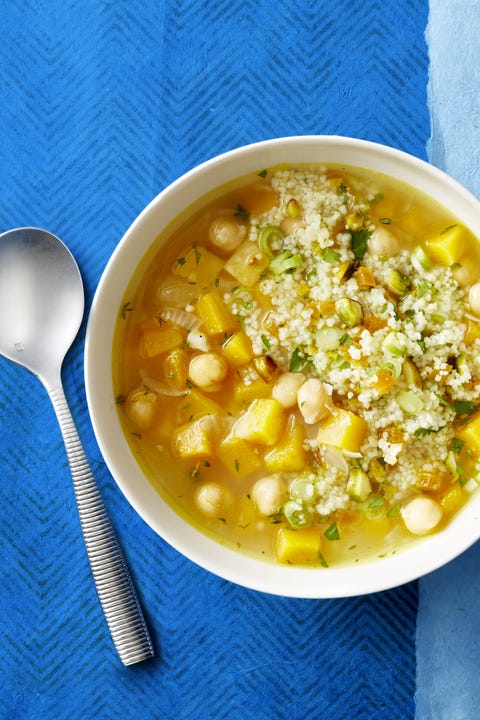 To get this for lunch, simply mash white beans. It will give couscous soup a creamy, decadent texture.
Sheet Pan Chickpea Chicken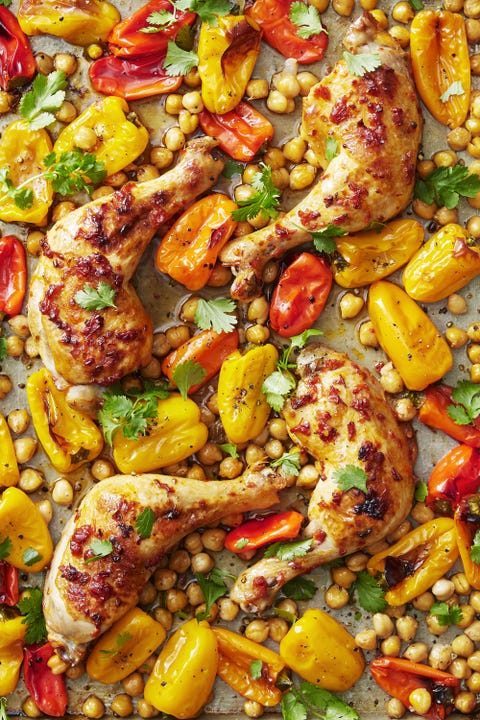 Another easy but classy way to kick boredom out of your lunchtime.
Vietnamese Caramel Pork with Pickled Carrot Salad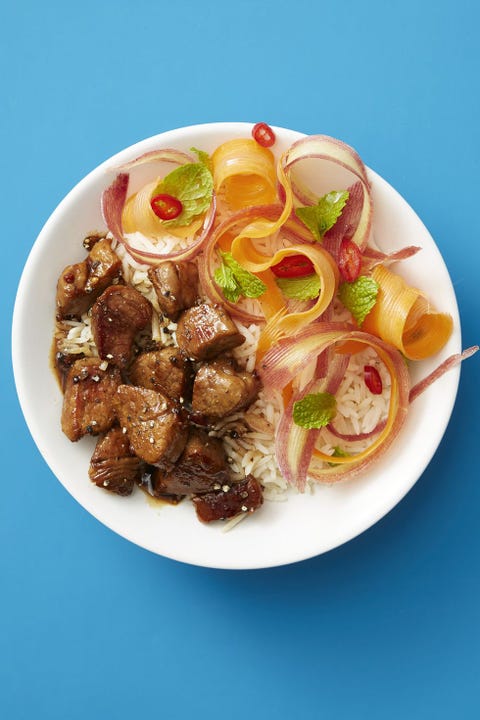 Doesn't this look like take-out? Imagine eating this during your lunchtime and leaving everyone scrambling to know what you're having.
Crispy Tofu Bowl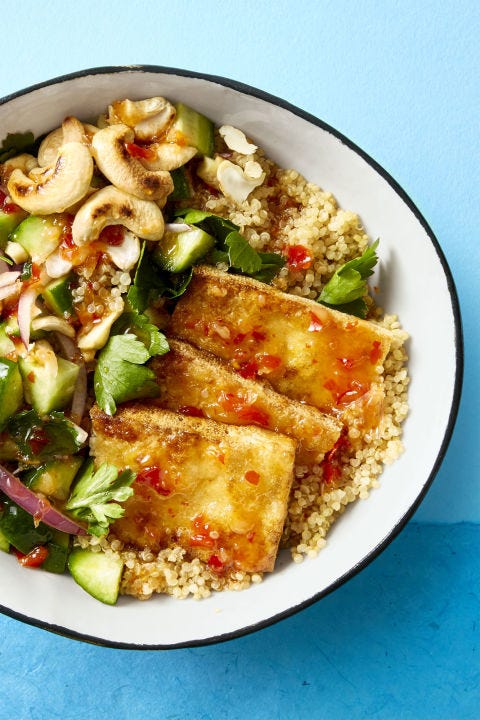 Extra-crispy tofu and this hot Thai chili sauce drizzling atop, is perfect and delicious.
Creamy Lemon Chicken Pasta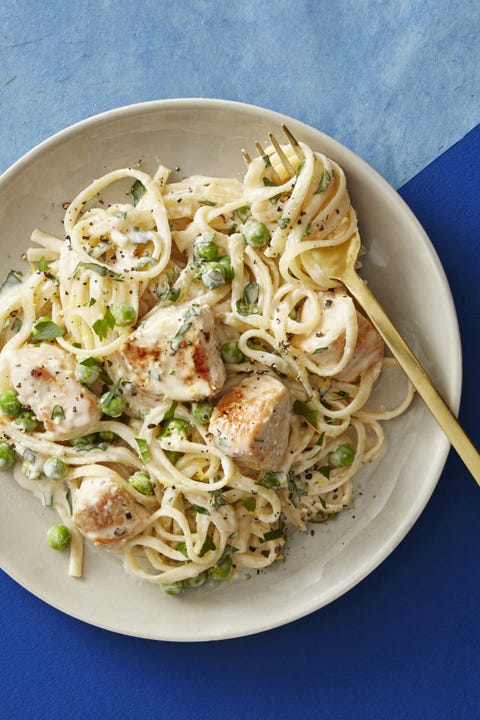 A lunchtime with this tangy, creamy sauce and grilled chicken is simply 'it'.
Summer Pesto Pasta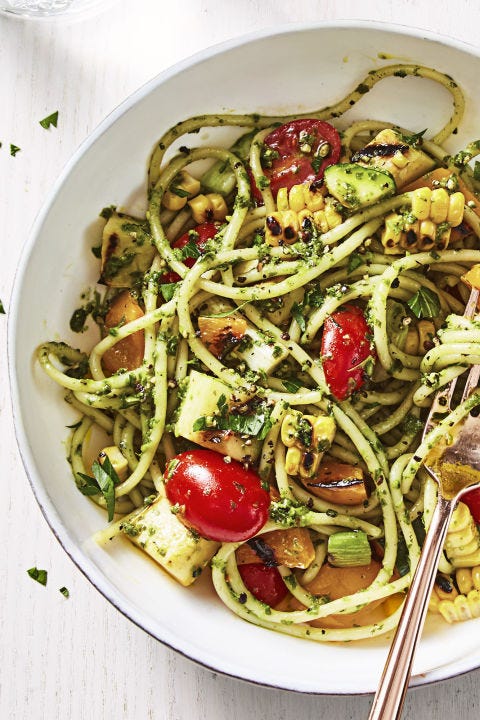 A good amount of corn, squash, zucchini, and peppers, in this pasta dish with its healthy flavors — definitely delicious.
Beet, Mushroom, and Avocado Salad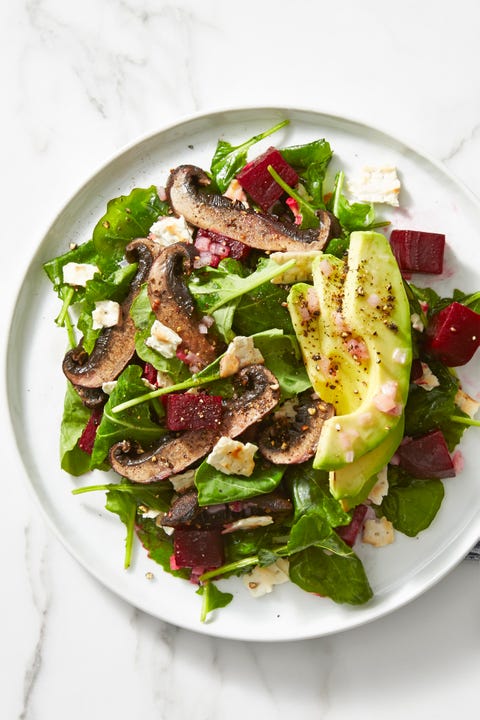 Avocados never make a wrong entry, never!