A Facebook user identified as Mabel Agbenyo has narrated a shocking story of how a pregnant customer bought goods and paid with the seller's husband's ATM card.
Agbenyo narrated how a pregnant woman bought baby items worth N164,000 from a trader at Wuse market, Abuja, and when it was time to pay, to the shock of the seller, the pregnant customer brought out her(seller) husband's card to make payment.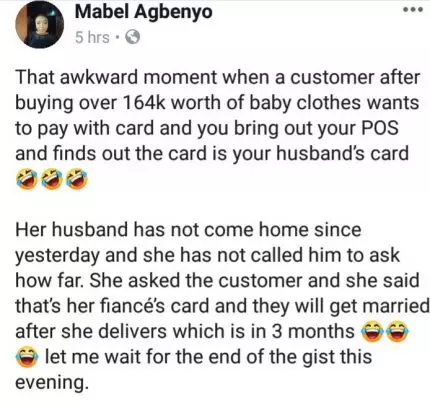 She wrote: That awkward moment when a customer after buying over 164k worth of baby clothes wants to pay with card and you bring out your POS and finds out the card is your husband's card…
Her husband has not come home since yesterday and she has not called him to ask how far. She asked the customer and she said that's her fiancé's card and they will get married after she delivers which is in 3 months … let me wait for the end of the gist this evening.
Post Edit: This happened in Garki market yesterday and it happened to someone I know.
On the follow-up to the story, Mabel wrote: The customer in their conversation, mentioned that the man is her fiance and they will be getting married after she gives birth to her baby…