Media personality, Toke Makiwa has ushered into the new month a jaw-dropping steamy picture of herself on her social media page (Instagram)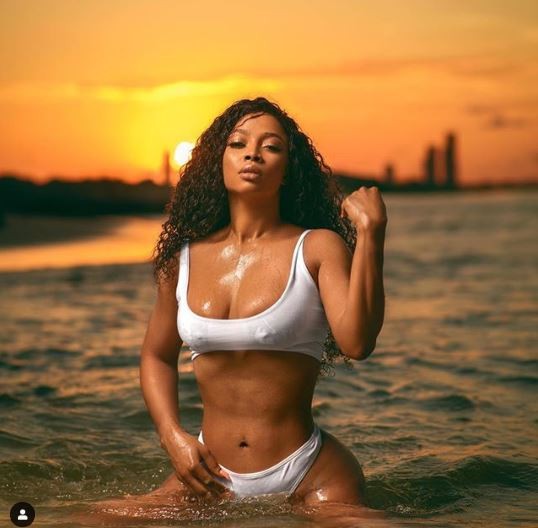 The 34-year-old media personality who is never afraid to show her killer curves posted a semi-nude picture wearing a see-through pantyhose.
The controversial socialite flaunted her flawless skin and body as she posted a caption saying;
This was not meant to be part of the shoot, this shot was a test one. @felixcrown was trying to get the right light and he got this shot and all I could think of was art. Being comfortable in who I am, not conforming to any standards, feeling confident and loving a new season. Things are changing, I've come so far from the girl that was unsure to the grown woman taking charge, running businesses, dreaming big and it won't stop. Thought to usher you in to the month of July feeling how I am feeling, I hope you stand out and make your own rules, I hope you fall only to get right up to do it again, i hope you win 
To my creative team love you all like I love my bum Aterrrrrrrsssssssss in Risky's voice, kizzzz it.
ALSO READ: #BBNaija2019: Meet The Big Brother 'Pepper Dem' Housemates
SEE PHOTOS BELOW:
ALSO READ: #BBNaija2019: Will Mike Stay Faithful In The Big Brother Naija House With Tacha In It?