Nigeria emerged as the overall champion of the 2023 ITTF African Para Championships which ended on Saturday, September 23, 2023, in Giza, Egypt.
It was gathered that the three-day tournament had hosted, Egypt , Algeria, Nigeria, Mauritius, Cameroon, South Africa, Kenya and Cote d'Ivoire competing in the singles, doubles and mixed doubles events.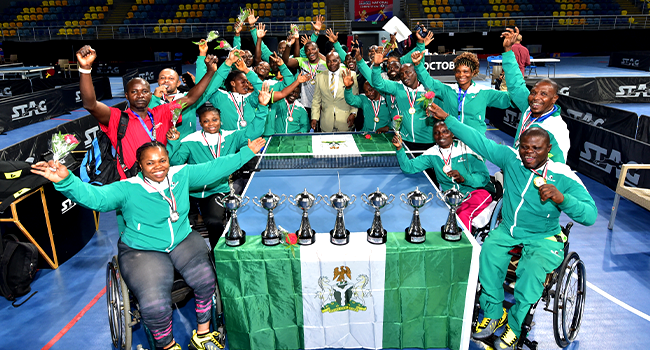 Nigeria won 12 gold medals to dethrone Egypt as the new para table tennis champion in Africa.
READ MORE: African Tennis Champion, Aruna Quadri Moves Up In ITF World Rankings
The Nigerians asserted themselves as the new heavyweights in the continent's para table tennis by dominating the singles event to pick up most of the tickets to the Paris 2024 Paralympic Games.
From the 14 tickets available for the Paralympic Games, Nigeria picked nine while Egypt settled for five in the singles events.
However, the host team dominated the doubles and mixed doubles events with five gold medals while Nigeria picked two.
The President, African Table Tennis Federation (ATTF), Khaled El-Salhy commended all the participating teams and described the tournament as a success, especially with the facilities and hospitality provided by the Egyptian Table Tennis Federation (ETTF).
"I am so happy that we have an improvement in the participation this year, especially with the number of countries that featured in this year's tournament," El-Salhy said.
"The players gave a good account of themselves; they showed their quality judging from the matches.
"I congratulate the ETTF and the government of Egypt for being good hosts and I hope our players will make the continent proud when the Paralympic Games takes place next year in France.
"I must also thank the ITTF for their support and I hope other African countries will focus on para-sports so that we can all be in tune with the ideals of the ITTF."