It is no news that the Lagos traffic congestion is not for the lily-livered. If you reside in Nigeria, it is impractical to be oblivious of the Lagos traffic gist. To some Nigerians in other states, the traffic condition is over-flogged; however, if you have ever lived in Lagos you would have an entirely diverse analysis.
The duration which Lagosians waste in traffic every day is quite disturbing. The traffic situation in Lagos has remained a chief hassle in the city. It is even alleged that you can buy your household needs in Lagos traffic. Notwithstanding the fun and amusement Lagos offers, the traffic clause is one of the downsides which take its toll on your entire day.
The amount of traffic gridlock in the city may make you want to consider leaving your car in traffic then advance to taking a long walk home. Worse still, the traffic condition in Lagos does not walk alone, it is escorted by its siblings, noise and air pollution.
The eminence of life, competitiveness of the industrial base and the ability to attract and sustain big business and sightseeing, all hinge on the provision of safe, fast, reliable and convenient roads, including access through public transit. Economic growth brings with it some jamming during busy times.
Over the years, Lagos has witnessed rising transport demand and road traffic which have led to increasing gridlock and delays (go-slow) occasioned by greater access to cars, access to credit, population growth and large supply of used cars; as well as poor quality of driving, especially by those who drive commercial vehicles or transit vehicles.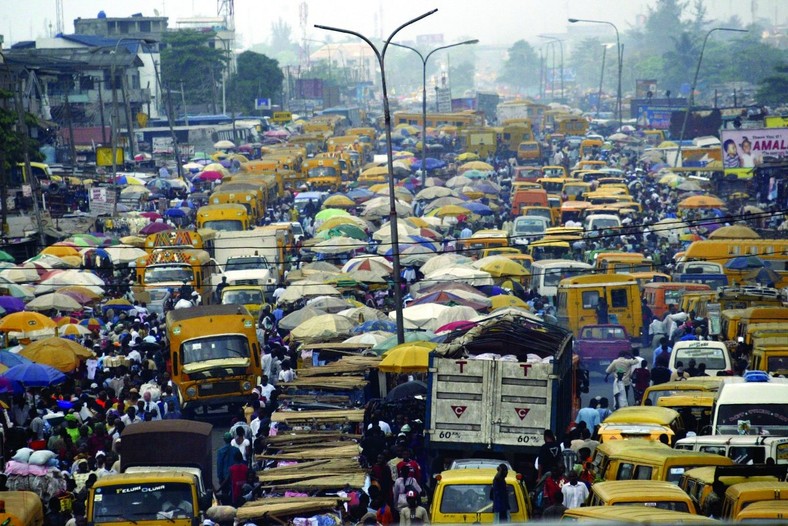 A Never-Ending Tale
Gridlock in Lagos affects both car and public transport users and produces losses in terms of economic effectiveness and other downbeat social effects like road accidents. Congestion in Lagos State is worse than many, perhaps most, other states in Nigeria. More important, it is getting worse, year by year.
The impact of traffic congestion is overt to anyone witnessing setback on Lagos roadways.
A motorist, Olaniyi, 42, says the congestion is caused partly by road users themselves.
"Lagos road users are known to be very intolerant and terrible at obeying traffic rules."
Without a doubt, many times traffic congestions have been caused by a driver declining to give way for another road user. The comeuppance of congestion is in many folds; some directly affect the drivers' sense of wellbeing, be it times worn out sitting in a traffic queue and the changes in the behaviour of drivers.
Such behaviour — according to the middle-aged and eloquent Olaniyi — might include "rude gestures, verbal insults, consciously driving in an unsafe or aggressive manner, or making threats.
"This can further lead to altercations, assaults, and collisions which result in injuries and even deaths.
"Other effects include missed appointments, higher fuel bill, decreased productivity, and a high degree of stress and so on.
"Some of the effects are less palpable, such as the impact on the environment."
Olaniyi further stated that "commuters, commercial drivers and private car owners should be accurately enlightened on the traffic signage, traffic law and also, they should be well-informed on the penalties of flouting traffic law and signage."
In a short interactive session with Tajudeen Asiru, a 34-year-old civil servant at the Ministry of Information & Strategy, Alausa, Ikeja, "traffic situation in Lagos gets worse as the day goes by as a result of the poor condition of roads in Lagos.
"There is scarcely any stretch of road that is completely free from potholes and bad portions.
"In rainy season, living in Lagos can be horrendous as the roads are mostly flooded due to blocked drainage channels.
"The lack of control of residents in Lagos has contributed to the predicament of traffic congestion in the state. Driving in Lagos requires a lot of patience and tranquillity as you are bound to see other drivers whose unruly manners would almost drive you over the edge.
"Lagos drivers hardly obey traffic rules.
"The problem of on-street parking is caused by Lagosians as well as other forms of trading activities which disrupt the free movement of cars."
Good road network, encouragement of mass transport system, proper traffic planning/management, regular road maintenance, construction of interchanges and regular education of road users are among the recommendations suggested by Mr Asiru to reduce traffic congestions in the megacity.
Briefly responding to a stranger-journalist, a young man who prefers not to be named, says "bad roads, trading activities, on-street parking, poor drainage, frequent vehicle breakdown, narrow road sections, religious activities, high volume of traffic, lack of parking space, menace of area boys and unscrupulous policemen, lack of traffic light at some road intersections, bad attitude of many Lagos drivers, over-dependence in road transportation are the reasons why traffic congestion will remain a constant feature of Lagos state.
"They say Lagos has a master plan but there's a difference between a plan and a paper-work. Is there really a holistic plan for Lagos and Lagosians in their entirety or is it just restricted to a particular place and people?
"When we are able to answer this question, then we can determine the possible way out on the menace of traffic congestion in Lagos", he added.
 Way Out — FRSC Official
A Corps Marshal of the Federal Road Safety Corp, Modupe Jikeme, posited various measures to solve the increasing gridlock in the state. According to Mrs Jikeme, "new acts enabling severe punishment for erring drivers and corrupt official should be promulgated.
"This is probably the most important action that needs to be undertaken to improve the prevailing congestion in Lagos as the majority of drivers do not obey traffic laws owing to self – indiscipline, and apparent inefficiency of the pertinent agencies established to enforce the laws.
"Despite being an official of the FRSC, I must admit that some measures that are supposed to help resolve traffic in Lagos have not been implemented by those at the helm of affairs, coupled with some bad eggs in the agency.
"The FRSC should mount sufficient towing vehicles in offices positioned close to the dark spots for swift response once such telephone calls are received.
"Road space diminution and hitch owing to collapse vehicles contribute notably to congestion in Lagos.
"As congestion is caused by increased traffic volume and density, which in turn are prejudiced by road design and behaviour of individual driver, it is much loved to diminish or perhaps eradicate the negative aspect of the latter.
"Although one of the key roles of present FRSC is to publicize safe driving, it appears this has not been helpful, based on the driving culture of Lagos motorist.
"The situation has deteriorated so badly that it often joked that prospective drivers in Lagos should "remember that every road user is mad.
"This situation is compounded with the ease at which a driving licence is obtained. Many drivers, especially commercial drivers often obtain licence without due driving tests by bribing the license authorisation officers.
"The FRSC should carry out proper driving tests and commence enormous efficient ads of safe driving and the ruthless penalty from not obeying the traffic rules or trying to obtain a driving license through bribery or other fraudulent ways."