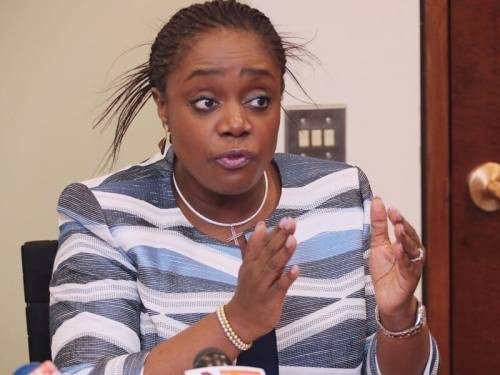 Nigerians were thrown into shock after news broke that Minister of Finance, Kemi Adeosun, has resigned from her position.
Sources quoted her as saying, she had to go because the alleged forgery of her National Youth Service Corps Certificate made her position as Minister untenable.
Many Nigerians have hailed the former minister for taking the path of honour and resigning while others are saying resigning isn't enough. Many have taken to social media to ask that she be prosecuted by the appropriate authorities according to the rule of law.
See reactions below
https://twitter.com/DrJoeAbah/status/1040577251769819136
With Kemi Adeosun's reported resignation, it's safe to declare that Nigeria's journalist of the year is definitely our own @abdulfagge, for revealing her forgery and how she was being exploited by NASS. And allow me to famz that he's my former co-worker. #ProudFriendsCommunity 😀

— Gimba Kakanda (@gimbakakanda) September 14, 2018
https://twitter.com/Osi_Suave/status/1040567198404812805
https://twitter.com/itschigbo/status/1040582443785510912
Kemi Adeosun was mute for too long over the NYSC saga. However, for her to have resigned as Minister of Finance shows that she's sane.

— Good Neighbour🇨🇦 (@Earlobi) September 14, 2018
FLASH: I have just received news that Kemi Adeosun, @HMKemiAdeosun has resigned.

Please confirm this @PremiumTimesng.

If truly she has resigned, she must refund all the salary she has received serving as minister of finance with forged certificate.

— Olúyẹmí Fásípè 🇳🇬 (@YemieFash) September 14, 2018
Just as Kemi Adeosun should face the full wrath of the law if she's indeed guilty, all those in @nassnigeria who were exploiting her should also face the full wrath of the law. Their party affiliation should not matter in the least.

— Mr. Aye Dee (@MrAyeDee) September 14, 2018
https://twitter.com/MrAbuSidiq/status/1040584008915197953
Thanks PMB For Not Sacking Kemi Adeosun. Loyalty in Politics is Everything. Go Well Kemi, You Can, Saw & Made us Proud.

— Retson Tedheke (@retsonbiz) September 14, 2018
Kemi Adeosun's resignation have rubbished Itse Sagay SANship! She thread the path of honour when those who are supposed to know better want to legalise illegality!

Kemi Adeosun have my respect!👏

— Opeyemi Babalola (@CACCOT1) September 14, 2018
BREAKING :
Finance Minister, Kemi Adeosun resigns..

ME : The best time to quit the stage is when the ovation is loudest.

Thanks for bin courageous enough @HMKemiAdeosun

— CBN Gov Akinsola Ak🇳🇬 (@cbngov_akin1) September 14, 2018
Professor Itse Sagay should 'resign' too. He justified the crime of forgery committed by Kemi Adeosun and claimed that the Oluwole Minister of Finance was too indispensable to be sacked. He should hide his face in shame!

— Emmanuel Ugwu (@EmmaUgwuTheMan) September 14, 2018
As Kemi Adeosun resigns , ICPC and other relevant agencies should prosecute her for forgery without further delay; only then can we say kudos to this admin that is known for giving soft landing to corrupt friends and family. Babachir Lawal is Adamawa Campaign DG.

— Somto Onuchukwu (@chosensomto) September 14, 2018
Kemi Adeosun's rumoured resignation is a smokescreen and we should be wary of "progressive characters and their boys" who'll use this occasion to sweep her alleged criminal actions under the rug. Resigning has no place under the rule of law but arrest and prosecution does.

— Olatunde Bakare C|EH (@Backarray) September 14, 2018