As part of efforts to enhance digital skills and empower the Nigerian workforce, World tech giant, Google has unveiled plans to train 20,000 Nigerian women and youth in various digital competencies.
It was gathered that the investment is in alignment with the federal government's commitment to create one million digital jobs.
INFORMATION NIGERIA learnt that the program would offer training in diverse areas such as data science, artificial intelligence, web development, and mobile app development, utilising both online and in-person delivery methods.
The initiative seeks to engage those with a strong interest in digital technology, a promising academic background, and a dedication to uplifting their communities.
However, the Vice President Kashim Shettima, said: "We need to think outside the box and pave the way for more job opportunities. As a nation, we must walk the talk. It's straightforward to discuss ambitious plans, but the real challenge lies in bringing these ideas to life.
"I want to assure Google and all our partners that this administration stands ready for collaboration.
READ MORE: We'll Support Google's Commitment to Create 1m Digital Jobs In Nigeria — Tinubu Assures
"Nigeria is open for business. Our current president is deeply committed to leaving a legacy that will make Nigerians proud for generations to come.
"We have a unique opportunity to harness the potentials of our huge youth population to create millions of jobs in the digital sector.
"With a larger English-speaking populace than many countries in Africa and beyond, Nigeria stands out. We may have missed out on the agricultural and industrial revolutions, but we are now in the knowledge-driven, post-industrial age.
"The potential we have is immense, and we're uniquely positioned to bridge the anticipated global talent gap.
"Our intent to partner with Google is clear and unwavering. We seek to work hand in hand with you for the betterment of our nation."
"This initiative consists of three components. The first is the 'Digital Onboarders Program', aimed at equipping 5,000 youth not in employment, education, or training with the necessary digital skills, followed by their integration into consumer-centric businesses across 12 states in Nigeria.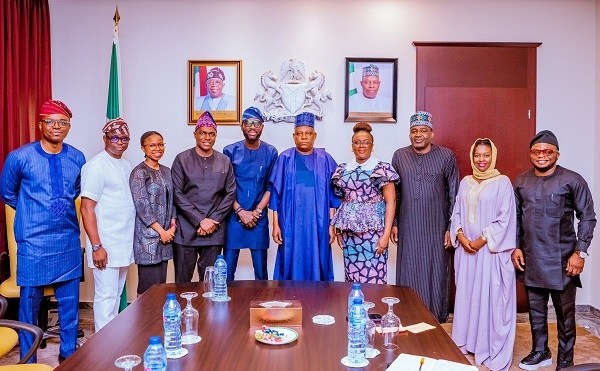 The 'Arewa Tech4Ladies' program would provide digital learning for women in four semi-urban and rural communities in Kaduna State for women in four semi-urban and rural communities in Kaduna State.
"Through this, 5,000 women and girls will be trained in areas such as data science and artificial intelligence.  The final pillar is the Engage Nigeria initiative, which is designed to offer training and mentorship to 10,000 prodigious young talents across the nation, supporting the growing creative industry."
Google Nigeria's Country Director, Mr. Olumide Balogun, said: "We see immense potential in Nigeria, particularly among the youth. Digital technologies aren't just tools, they're gateways to countless opportunities. "With these platforms, our dynamic youth can step forth, becoming pivotal players in the digital economy. Our grant from Google.org is not only an investment but a testament to our belief in Nigeria's bright future.
"We're honoured to support the Federal Government's admirable goal of creating 1 million digital jobs and will continue to be steadfast partners in this transformative journey."