Ahead of the declaration of Election Petition Tribunal verdict, the Kano State Government on Saturday, organised a special prayer session for divine intervention towards the continuity of the present administration.
It was gathered that the National Leader of New Nigeria People's Party, Dr Rabiu Kwankwaso, members of the state executive council, party leaders, traditional rulers, religious leaders and other stakeholders attended the event in Kano.
Leading the two raka'at prayer session at the Kano Sports Complex, Dr Sani Hashim, the Chief Imam of Kofar Mata Central Mosque, Kano, appealed to Nigerians to continue to pray to God to assist leaders to deliver on their electoral promises and to achieve success, peace and development in the country.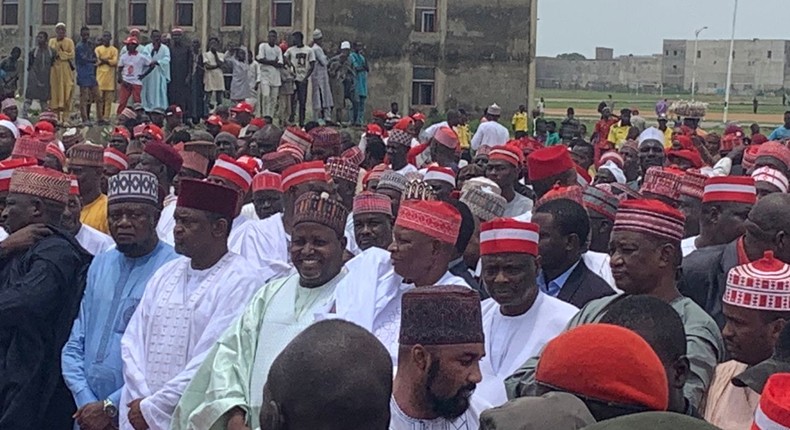 Hashim said: "It is high time clerics and the leaders join together through the spirit and leading of God to pray for our state and nation for God's intervention in our activities.
"We should also pray for our democratically elected leaders that God should help them to bring peace and development in our state and at all levels.
"We all gather here and pray to Allah Subhanahu wa'Ta'ala to express our appreciation and gratitude to Him for His numerous blessings and immeasurable mercy to us, to our state and to our country."
"We gathered here today to thank Allah (SWT) for keeping our communities safe, for keeping our state secured and for keeping our country safe.
"We thank Allah (SWT) for His mercies. We thank Him for the blessings of good rainy season and for the progress being experienced in businesses in our state and for the emerging prosperity in our state within the last three months."
He noted that Kano state is blessed with leaders that have started changing the landscape of the state.
"Pipe borne water has started gushing in all parts of the state, streetlights have been restored, hospitals are being renovated and equipped with modern facilities to meet the healthcare needs of the people.
"Our schools are being renovated and assistance and supports are being extended to the most vulnerable in our communities and mass marriages have reached an advanced stage of preparation.
"One thousand and one graduates are being selected to be sent abroad to pursue higher degrees in September this year and Kano state is paying the registration fees of over 7,000 indigent students of Bayero University.
"Over 57,000 students were registered for NECO at a cost of about N1.3 billion by this administration. We therefore gathered here to pray for our leaders at the State and federal levels."
According to him, "Our roads are being rehabilitated, refuse dumps are disappearing from our streets.
"Oh Allah, protect and guide our leaders, our elected leaders, whom You blessed us with.
"Our leaders that we willingly voted for them with Your guidance. Please protect them. Please guide them a right."
"Ya Allah, the enemies of the people are scheming and planning to undermine our leaders, Ya Allah! defeat the enemies of the people.
"Ya Allah destroy the enemies of Kano state wherever they are. Ya Allah, the enemies of the state are there trying to steal the mandate of the people through the back door.
"Ya Allah confuse them and defeat them. Ya Allah, establish an enduring peace in our State. Ya Allah bless our markets and our schools," the cleric prayed.